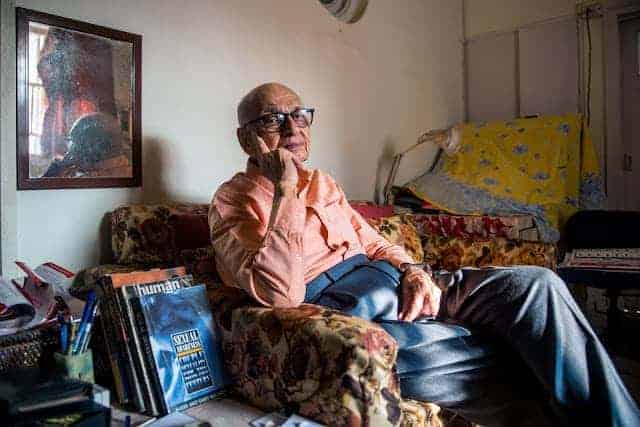 Vaishali Sinha is an Indian activist filmmaker with a penchant for socially sensitive issues, often related to female sexuality, such as surrogacy, abort and sexual education. After a couple of short films, in 2010 she co-directed with Rebecca Haimowitz "Made In India", an in-depth look at the surrogacy's legal and ethical implications and human and reproductive rights, through the tribulations of an infertile couple. She uses the same warm touch here in "Ask The Sexpert" to talk about sex education and the obstacles it is facing in Indian society, channeling a very humane real story.
Ask the Sexpert is screening at the 16th IFFLA
"Ask The Sexpert" is a popular column of the Mumbai Mirror, where agony aunt Dr. Mahinder Watsa answers the readers' questions about sexuality. During the years, the column and its adviser have became incredibly popular due to a mix of informative non-moralistic answers and the matter-of-fact sense of humor that it provides. Many young boys and girls have learned things they couldn't ask their parents and many couples have rediscovered that "sex is a joyful thing", to use his words. The general perception of Dr. Watsa is of a 40-something, good-looking doctor (with mustache, adds an enthusiastic girl), but in reality, the star of this daily appointment is none other than a jolly 91-year-old retired gynecologist and obstetrician. We see him checking his emails on screen with a big magnifying lens and going through erectile dysfunctions and weird libido habits as if he would read the supermarket shopping list; the striking contrast between this lovely pensioner and the subjects he deals with is at the same time funny and heart-warming.
Meenal Baghel, editor in chief of the Mumbai Mirror explains that while designing the paper she strongly wanted to have a sex column, partly to use as a hook, but mainly to have a space to discuss about issues of sexuality, and Dr. Watsa's age was a bonus as he had lots of field experience. He has now been doing it for 9 years. As a young comedian Aditi Mittal remarks: "There is something very non-threatening about an older person talking about sex" and adds: "He made it possible for me to speak more freely". But not everybody loves Dr. Watsa. Busy bee Pratiba Naittahni, activist and Professor of Political Science is his dedicated enemy, her strong sense of morality prevents her from grasping the importance of education; for her, some topics are just taboo. She stubbornly walks from a law firm to another, filing lawsuits and complaints, regardless the lawyers' polite and bored advises to give up.
The movie takes its time to introduce the likable Doctor but it is only when his past is slowly revealed that the amusement gives way to real admiration. In fact, Dr. Watsa is not just a retired gynecologist but he's a man who has relentlessly dedicated all his life to educate, fight superstitions and bigotry, and contribute greatly to women empowerment. He leaves behind a legacy of doctors, activists and politicians who have been inspired by his lifetime work. Dr. Indira Kapoor, former Asia Head of International Planned Parenthood Federation and close friend of Watsa, sets the character in contest with a bit of history, starting in 1952 when the Government implemented 5-years plans for the development of India and included Family Planning within the priorities. Dr. Watsa started the first workshop on human sexuality, after realizing the worrying extent of the ignorance on the matter. Still now, incredibly, a ban on comprehensive sex education in schools is adopted by approximately a third of India's states.
Predictably, Dr. Watsa's private life and family have paid the high price of his dedication and now some regrets seem to hunt him. He wishes he had spent more time with his late wife but we can see clearly that – given the opportunity – he would repeat the same mistakes. His home is still a coming-and-going of people searching for his benevolent advise and in addition, he has also turned his columnist experience into a book for Penguin with the significant title "It's Normal". Nothing can stop this man!
The documentary has a gentle pace and a warm quality that manages to be assertive, righteous and entertaining at the same time. This is an absolute gem of a movie, a tribute to a relentless fighter and a generous, sympathetic soul who certainly can count also director Sinha as one of the positive outcomes of his dedicated life. A real must-see.