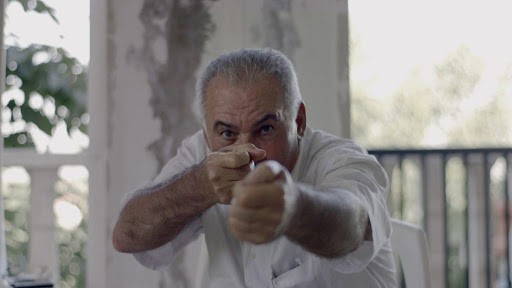 I have to admit, sociopolitical/historic documentaries are among my favorite categories of films, as I enjoy the knowledge they communicate. In that fashion, and since "A Feeling Greater Than Love" is my first Lebanese film and winner of the FIPRESCI critics prize at the Berlinale Forum, I was very excited to watch it.
The documentary focuses in two, relatively unknown aspects of the Lebanese labor movement that took place in the early 70's, both of which were somewhat forgotten due to the civil war: the protest at a tobacco farm in southern Lebanon and the strike at a chocolate factory in Beirut. As Mary Jirmanus Saba includes interviews with the people involved, she also makes a comparison with the present, while posing a number of crucial questions regarding the movement.
What will strike the spectator of the documentary, from the beginning, is the amount of footage Saba managed to collect and include. Photographs, video, sound, both form the past and the present, even scenes from movies dealing with the theme, of which " A Hundred Faces for a Single Day" seems quite interesting, are all parading through the screen among the interviews, in a combination of artistry and retro aesthetics. This last aspect is heightened even more by the questions Saba poses, which are presented in writing in a black background, much similar to the silent movies of the past, in a very interesting approach that induces the film with her "presence" and opinions, without her having to appear on camera.
These questions are as central to the documentary as the footage and interviews, as they seem to ask the crucial questions of why the movement failed, if society has changed since the 70's regarding the practices of the monopolies and feudalism, and if any significant change can be made now. As the last scenes feature the members of the aforementioned all together, quarrelling, a quite pessimistic answer in all those questions seems to rise.
In general, I enjoyed the different presentation of the theme with the aforementioned combination, with Saba, Karam Ghoussein and Ziad Chahoud's cinematography highlighting the amount of work involved in the documentary. At times, though, I found Louly Seif's editing a bit hectic in the constant change of footage and of the other elements (past-present, messages in black, different interviews), in a somewhat of an art-house approach that does not benefit the documentary so much. At the same time, some knowledge of the Lebanese history is definitely needed in order to understand the documentary fully, although Saba makes an effort to explain things from the beginning.
"A Feeling Greater Than Love" is a very interesting documentary, both in its theme and its presentation, while it fulfills one of the major purposes of the medium, to remind and not let people forget.