Before founding his own production company Milkyway Image in 1996, Johnnie To directed a few movies for Shaw Brothers, among them a messy action comedy called "The Mad Monk" (1993). In 1997, To delivers "Lifeline", a swansong to the Hong Kong studio system and a milestone for his independent career.
Watch This Title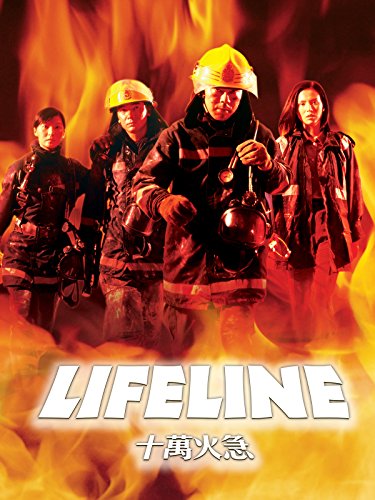 The fiery action adventure tells the story of a group of firemen in Hong Kong, their rescue missions and personal dilemmas. The fire station seems to be cursed because bad accidents occur on a daily basis. In the beginning, the new grimly chief Raymond Cheung (Alex Fong) gets in charge and gives everyone a hard time. Even the veteran firefighter Yau-Sui (Lau Ching-Wan) is not spared. He has to moderate between the firefighters and the new boss. Sunny (Ruby Wong) is the only woman in the station and is struggling with her husband, who does not accept her profession. Yau-Sui himself has also private issues since he is in love with the married doctor Annie Chan (Carman Lee). But all these problems are forgotten when the fire alarm goes off and the team is called to a big factory fire.
Male-bonding is the big topic of this movie. Like in "The Mission" (1999) and "PTU" (2003) Johnnie To fetishizes his admiration for uniformed men. The story provides context for more realism in terms of portraying heroism than his former cop vs. gangster movies. The firemen (and firewoman) are more vulnerable and thoughtful. "Lifeline" offers a social look at the fire department and tries to give an honest portrait of firefighters caught between the contradictions of public service and personal lives. Two-thirds of the film are about the fundamental representation of the characters and their life-saving efforts. All the action happens in the last third. Here, To shoots a neverending fire sequence, in which the brigade is called into action to join other firefighters to put out a huge fire in a factory set off by a pyromaniac, who is played by Lam Suet ("Kung Fu Hustle" 2004). The dramatic sequence is one of the lengthiest To has ever filmed. In fact, this sequence refers to a real event that happened only one month prior to the release of the film. The Garley Building fire was one of the worst fire disasters in the history of Hong Kong and occurred in November 1996, killing 39 people.
The male heroes Alex Fong ("Project Gutenberg" 2018) and Lau Ching-Wan ("Mad Detective" 2007) seek to fulfill their duties despite their character flaws. Arrogance, bull-headedness as well as other signs of phobias are part of To's character design. While focussing on a very melodramatic narrative, the men are confronted with the strong female actresses Ruby Wong ("Running Out of Time" 1999) and Carman Lee ("City on Fire" 1995). Their interpersonal relationships turn the film into a soap-opera for most parts. Even the action sequence at the end is weary and not very dramatic. Therefore the movie fails to build up suspense.
Cheng Siu-Keung's cinematography captures the characteristics of Hong Kong as a working city with its infrastructure of streets, Skyscrapers, and emergency services. In this sense, "Lifeline" hits the right tone and dedicates its plot to the hard work of Hong Kong's people. Different from his other movies, To refrains from using flashbacks and concentrates fully on character development. This leads to a strong focus on character and has a TV Drama like vibe. The subplot of Annie's struggle of being a mother-to-be and a strong, independent, career woman is one of these elements.
Coming to terms, the movie has its lengths and the combination of character study and action is rather poor. Johnnie To's attempt to portray human entities, vulnerable and driven by emotional instincts and their conflict between discipline and emotion is luckily the last entry to this era.