Due to winning the prestigious Best Asian Film award at Fant-Asia Film Festival as well as Andy Lau the award for Best Actor at the Hong Kong Film Awards in 2000. "Running Out of Time" has to be one of the most popular movies directed by Hong Kong filmmaker Johnnie To. Its success even led to a sequel produced and co-directed by To in which Lau Ching-wan would reprise his role as Inspector Ho of the Hong Kong police department. However, as with "The Mission", which was also made in 1999, production was quite stressful as To has admitted in several interviews, especially since working with Andy Lau proved to be quite difficult given his busy schedule that year. Regarding the title of their collaboration this fact seems somewhat ironic since Lau's character is also constantly pressed for time, although the reasons for that differ of course.
Buy

This

Title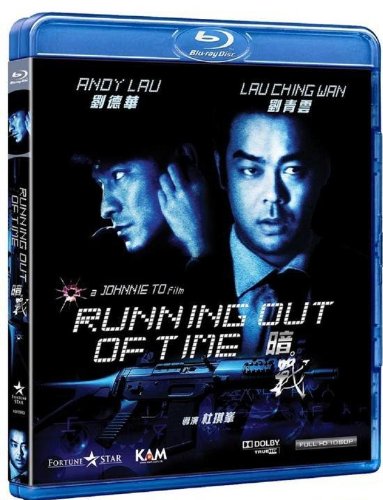 After he has received the medical diagnosis of late-stage cancer Cheung Wah (Andy Lau) decides to get through with a plan he has been harboring for quite some time and which would present him with the opportunity to settle some matters a gangster boss nicknamed Baldy (Waise Lee). Cheung believes he and his men are responsible for his father's death and has come up with a scheme that would damage his organization where it hurts most: their wallets.
However, Inspector Ho (Lau Ching-wan), a dedicated police officer and hostage negotiator, plays an integral role in Cheung's plan, so he stages a fake hostage situation to get his attention. Soon the policeman finds himself involuntarily playing a cat-and-mouse game with Cheung, who manages to out-wit him repeatedly and evade his arrest attempts. At the same time, he finds out about a deal involving a diamond that Baldy is eager to get his hands on.
Whereas for example "The Mission" seems heavily influenced by European gangster film, most prominently the cinema of Jean-Pierre Melville, "Running Out of Time" is more in line with the American heist thriller. Since To's film starts by establishing the terminal condition Andy Lau's character suffers from, the issue of time becomes the central theme of this film, both thematically and formally. As the story progresses, any viewer will notice the carefully-laid out plan staged by Lau's character with each step dependent on impeccable timing and people playing their roles, wearing masks or behaving as foreseen by him. Besides playing the drama of a man "running out of time", emphasized by his decreasing condition and scenes in which he spills blood, Lau is visibly delighted to play what is essentially a human chameleon.
Within the structure of the movie, especially regarding Andy Chan's slick editing and Raymond Wong's music, it seems to follow a distinct cadence, each scene framed by a feeling or urgency. At the same time, To also finds time for quiet scenes, even romance, for example, in the sequences involving Cheung and a girl on a bus, played by Yoyo Mung, suggesting a certain attraction between the two of them. Within the plethora of wonderfully choreographed chase-sequences and action set pieces, these scenes may just be some of the most beautiful and romantic within To's body of work, even though you could debate their relevance within the context of the plot.
At last, To's film repeatedly plays with the parallels between the cop- and the criminal-character in his film. As with many of his films, there is a certain bond between characters who, on the surface, are opposites, but share a deep understanding and even a certain professionalism regarding their line of work. Within the framework of the "game" they are playing, as Cheung calls it, it is also a game of wits, tactics and intelligence, similar to chess or poker. This idea adds much to the overall enjoyment which is "Running Out of Time" for its viewer, making it stand apart from the generic formula-foundation To often uses.
"Running Out of Time" is an entertaining crime film with great editing, timing and wonderful performances, especially by the two male leads. It is a film whose fast pace and dialogue again present the incredible talent of Johnnie To who can easily make a mainstream movie as well as an action film with a more arthouse-like touch such as "The Mission". In the end, perhaps the director himself the most convincing chameleon after all.