Josabeth "Joji" Alonso studied at the State University of the Philippines. After sixteen years of law practice, she ventured into movie production and founded Quantum films. She has since produced over 30 features, both commercial and arthouse titles. She directed a short feature, Last Order, and a long fiction feature, Belle Douleur, which has been awarded at Manila's Cinemalaya Film Festival.
On the occasion of her presence as part of the International Jury at Vesoul International Film Festival of Asian Cinema, we speak with her about her life and career, producing and shooting films, the Filipino film industry and many other topics.
You started as a scientist, then became a lawyer, then movie producer and now a director. Why all these changes?
Science was a result of the influence of my father and my siblings, who are all scientists. I tried to keep up with them but it was never in my heart to go in that direction, and since I was 9-10 years old, I already loved watching films and I thought, "I am going to make one". Over the years, I lost interest because the direction of my parents was for me to finish a degree that will help put food on the table; that was the priority. When I entered college, my major was mathematics because of a scholarship. My mother died during my last year in high school, I was 15, and financially we were drained and my father told me that the only way to go to the State University is to get a scholarship. And the only way I could get in was by taking a course in mathematics or science. I had enough of science so I thought I would try math and I got the scholarship. But I was not happy, even though my grades were decent. So then I decided to follow a career in law because I like to argue, to defend my position and I am a very analytical person, I go holistic and then I go point by point, see the mistakes and what is good and what bad. So, I shifted to a degree in political science and then I entered law school.
Then, when I was a lawyer, something was still missing in my life, not the financial aspect, but something that I wanted to do since I was young. So I said, I will try directing but I saw how the production of a film is and I realized I was not ready to become a director. I thought it was easier to raise money as a producer because I have the gift of being able to convince people, and that is how I started my work as a producer.
But then, after my first job, I lost something like 600,000 euros, I had to mortgage my house. Seriously, that is how passionate and obsessed I was. I was not even considering my children, nothing, I just wanted to make a film, it was crazy. Then for two weeks, I was depressed, I felt really down because I made a beautiful film that was awarded, but the money did not come back. So, I said to myself that maybe this is why I got my law degree and this is where I can make good money and recover from the losses. Therefore, I set filmmaking in the back and went to practice law again. But then, I saw a script and it was beautiful and I felt in love with it again. That is when I shot "The Bet Collector". It was critically acclaimed, it won two Fipresci prizes, it screened to more than 200 festivals because we were invited to a number of cities and towns in Spain, they loved the film there. But again, the film did not make any money, although it was definitely not as bad as the first one.
Then, I was convinced to make a commercial film, "Here Comes the Bride". And even if it was commercial, it was out of the box, not the usual fare. Of course, you have Freaky Friday, all these exchanges of spirits and whatnot but this one was different, because each character represented something. One character was looking for love, and one was looking for wealth because he came from a very poor family, and the other one was looking for youth and manhood, and the last one was looking to become a girl. It was a very beautiful concept and that is why we agreed to do it and we were fortunate because I managed to recover, not what I lost in the first one (which was really bad) but the second one, I even made money from "Here Comes the Bride". Then I used this money to finance two small films, "Blood Ties" and "National Flower" which competed in Berlin, in the Generation section. It went on and on and somehow I created a formula: Producing commercial films and if they make a profit, I will save a part of that sum to shoot the films I really want to make.
You still practice the law?
Yes, I have six lawyers who work for me, one of them is my daughter, another is a junior partner who has been with the office for 25 years. It is going well, I do not really have that many clients, just 120 but I can expand and partner with bigger firms but I decided to keep it just small size, something that we can all know every detail of every problem. I am still a very hands-on lawyer, even here in Vesoul I have been working.
How do you find the time?
My father used to say that if you really want to do something, you always find the time to do it, if you don't want to do something, you always find an excuse for it. I try to maintain a balance. I am fortunate because my lawyers are very capable, I just have to be involved when a particular problem comes up, but thankfully, these are not many, just one or two here and there.
Can you give us some info about the state of Filipino movie industry at the moment?
It is not looking good. Let me start by saying that, as far as I am concerned, the Filipino audience needs a lot of education. There is so much focus on love stories, horror movies, genre films, Hollywood films. The first thing they always ask is who is the actor or the actress. I understand that in a lot of countries there is this celebrity/star status for every film, and the same applies to the Philippines. You may have the Cannes winner screening and no one is going to watch it. That is the sad reality for arthouse or alternative films. As far as the mainstream/commercial films are concerned, it went to a nosedive last year. In fact, there was a film with really big name actors and it failed. So the formula of X+Y=Z just crumbled. Then there was a film I co-produced, "The Panti Sisters" that starred Paolo Balesteros, the protagonist of "Die Beautiful" who could carry a movie on his own but we cast two others as co-lead actors of his, and the film did very well, we grossed over 200 million pesos. I did not expect it, I was thinking that if we make 60 million we are good. It did so well so we have a sequel this year, which is even funnier.
"English Only Please" and "Walang Forever" were also very successful. Would you say you have the recipe now?
When I read a script, it gives me a certain gut feel if it is going to work or not. Like when I was reading "Here Comes the Bride" I was alone in a corner, laughing and I thought that it really had potential. We had a script but we added more things because it made the story even funnier. When I saw the finished product, I said that we have a gem in our hands. I was so excited, but at the time, the movie career of our 2 leads wasn't really soaring, so it was a very big risk and everybody said that they had no chemistry, that they cannot work together, but when you see the film, you realize it was so much fun. People were reacting to it and telling others that they have to see it, so, actually, word-of-mouth that spread it. The same goes for "Walang Forever" because we were competing against other films in the Metro Manila film festival, featuring bigger stars. Obviously, I do not know the formula because if I did, all my movies would be making a lot of money now. But for me, a good story is the major ingredient. If it is a commercial film, it has got to be a good horror film, a really good romance or drama or comedy film. Right now in my country, the audience does not go so much for tear jerkers but in the last film festival a tear jerker was the biggest hit, "Miracle in Cell Number 7". I used to believe that you need to have two "posts", the lead actor and actress have to be really good, and then the film will probably work, but frankly it is hard to say.
Why did you decide to make the transition to filmmaking, did the fact that you were a producer before made it easier?
Yes, it was a walk in the park so to speak, it was not a shocking experience. However, I would describe it as a humbling experience, because as a producer, I do not go location hunting with the crew, I don't join the pre-production,I just meet with my line producer and associate producer and I give them directions. What our limitations are, and that you have to support the director, but there is a point where you cannot go beyond, you have to remind them that if he decides to shoot six sequences in one day they have to tell him he has to focus on two big ones and to let the rest go. Otherwise, we are not going to finish within the budget. These are my rules as executive producer.
For this one, we went to six locations for one potential sequence, it was a very difficult process because I was not exposed to that part before, the location hunting. The casting was easy, I have always been gifted somehow in considering who is good for which role. The pre-production and the meetings with my DOP were more difficult, because I had never before discussed regarding the where we will put the camera and how many shots we will do here, and if can we manage to finish 12 sequences in one day (laughter). Because we only had 10 day allocation for "Belle Douleur", it had to be finished in ten days and that was not easy to do. So yes, I had difficulties but not something big enough to really trouble me in terms of exposing myself to actually directing for the first time. I loved the actual shooting, my actors were good.
The script was inspired by a 2017 online video that went viral, where a woman named Aryana Rose narrated her true story, of falling in love with a 29-year-old man while she was 45. What drew you so much to her story as to direct a movie based on that?
I just saw it on Facebook. I had no plans for a feature film, I just made a short film in order to be able to say that I can direct, but when it won in Pyongyang, it was a very pleasant surprise, it was not expected at all. I knew I had something special when the film was invited in festivals, like Kairo for example and I was so happy, but that was it. I did that short in one day, although I prepared for several years. Actually, it was all just an idea but I never really got there until I was in Cannes in 2017, where we discussed it and I found in my mind how I want to do it. Then I shot the short and that was supposed to be it. But then, I saw this video of this woman on Facebook. She was 44, she was sharing how she fell in love with a younger man and I said, "Oh my God". In my career as a lawyer, there is so much fighting, someone is always right, someone is always wrong and the judge has to decide. And here was a woman who emitted so much love for this person that she was willing to give up the relationship she cherished so much, in order to give the guy the opportunity to have a child. I cried when I saw the video, even now that I am mentioning it again, I have goosebumps. People ask me if I was ever in a relationship with a younger guy, and I reply that it is always someone older with me. Nevertheless, I felt that this was a story that should be shared.
My problem was that it was a love story essentially and how to put some layers somehow. So, I tried using the special children concept, because my son is special, although he is very functional. He was actually in one sequence in the film, the boy with the angry mother, that is my son. The different mothers in the film, that is me right there, I have been in all these situations, these were my experiences with my son, the frustration, the sense of being lost… Somehow, I intertwined that part because I have been working with child psychologists all my life, my lead character is a clinical psychologist. I read your article and you were wondering why, but that is the connection, it is a personal one.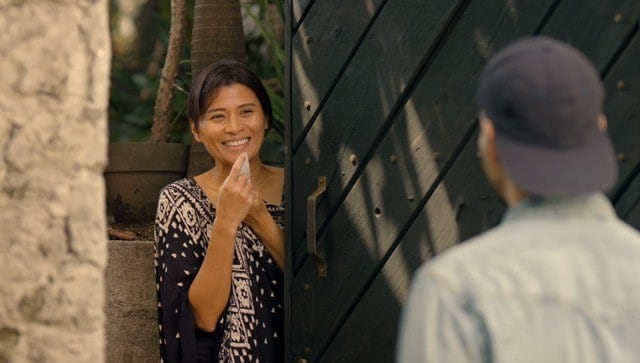 The fact that he is an antique dealer is a joke, right?
Yes, it was intentional (laughter). We were wondering what kind of job the male protagonist should have, if he should be a clinical psychologist. I read this article about the people who, after someone dies, they run to the deceased's estate and buy everything that he owns. I thought that it sounded interesting and I want to poke some fun here and make him a collector of antiques. When my writer and I sat down and I mentioned this she was laughing and laughing and thought that it was a good idea.
Do you see any elements of yourself in Liz?
As a loving daughter, yes, because after my mother died, I told my sister, "Why don't we fly dad to Manilla and take turns of taking care of him to help each other?". That is exactly what happened. The pictures of Liz's mother in the film are actually of my mom. Except for the falling for a younger guy part, I guess a big chunk of Liz would be me because when I fall in love with somebody, I make all kind of sacrifices for that person, I have been there I have done that, so I guess in that context, yes, I am like Liz. I do not think I would be able to give up someone I love to another woman, I do not know if I could do that, but unconditional love? Yes, I have been there.
There is a scene in the beginning of the film, after the funeral, where an obnoxious aunt says all the annoying things no one wants to hear in such a moment. There is always a person like that isn't there?
We purposefully injected that part as a little comic relief, because it was a very heavy moment in the beginning, but in the same time, this thing has actually happened in several incidents, bits and pieces were from actual situations.
There are a number of sex scenes in the film, but none of them is particularly graphic. Why did you choose this approach?
Because Mylene has set her limitations. No breast or butt exposure.
Why?
Because she has two teenage boys, so she was very careful. I wish I could have gone a step further but I could not.
Why does Liz treat Josh like a mother some times? Is it the age thing?
Partially yes, because she has been taking care kids all her life, but also because she was looking for a replacement for someone to take care of, after her mother died.
Mycko David's cinematography is exceptional. Can you give me some details about your cooperation?
If you are referring to the long sex scene, that was actually done in a single take. We rehearsed that for about six hours.
And what about the beach scene?
We went to Marinduque because of that room in the final scene and the bed. When I saw photos of that bed, I thought that we have got to shoot here, there was so much purity and serenity and at the same time it was so sexy. I thought that was the perfect place for the last love scen, after which they would never see each other again. The beach there was not that good actually but we were able to discover a private beach, and that is the one shown in the film.
What are you working on next?
I just finished principal photography for Carlo Manatad's debut film "Whether the Weather Is Fine". Carlo is like my son, he heads my post–production house, and six years ago, he was crying on the phone asking for my help in order to fly to Tacloban during typhoon Yolanda (international name Haiyan). I told him, "I would pay as many seats needed to fly you there but the problem is that there are no commercial flights". He was begging though, because his entire family was trapped in Tacloban. Then I remembered that the Chief of Staff of the Filipino Armed Forces is a very good friend and I asked him. Initially he declined, telling me that he cannot fly a civilian but when I told him that I had never asked for a favour before and really plead with him, he promised that he would find a way. So Carlo was able to ride the first plane that left for Tacloban, to deliver relief goods. However, when he went outside the military base, he was not sure if he wanted to proceed because there was not a single meter where there was not a dead body. Then someone pointed a knife to him asking to give him his backpack. In the end, Carlo threw a water bottle at this person and run, but he really thought that he would to die. This is his story. He was fortunate because he found his family. The movie was inspired by that incident but it is more about people deciding if they want to stay or go. It is co-written by a French writer and it was financed by Cinema Du Monde and the Torino Film Festival Fund and the Berlin Film Festival Fund. It is an expensive film, almost one million Euros, particularly because the production design is very expensive.
Will you direct again?
Yes, I am planning, I already have a concept and talked to somebody who will write it for me and he is so excited. We are still working on the material, I need the script first and I hope to shoot it before the year ends, for five-six days. The reason I am doing this is because I feel challenged, by the people who said "Belle Douleur" was too mainstream. I just want to prove to myself basically, that I can do something more serious.
Are you a competitive person then?
I used to be but now I only compete with myself.