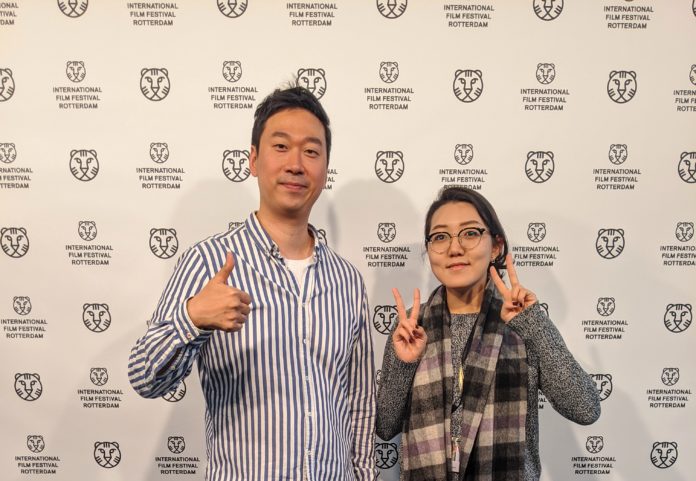 Kim Young-hoon's debut feature "Beasts Clawing at Straws" packed a full house at its world premiere at the International Film Festival Rotterdam. In a masterfully crafted storyline aligning a motley crew of low-lives over a single bag of money, the crime-thriller-drama stars celebrities Jeon Do-yeon and Jung Woo-sung in the mad chase over a windfall-turned-curse. Its excitement seems infectious as well; IFFR judges have awarded the film a Special Jury Award at the 2020 Tiger Competition, and it will premiere in South Korea later this month.
We had the pleasure to sit down with Kim Young-hoon at IFFR and take a step back from the film's upbeat pace. He spilled the behind-the-scenes details about his inspiration, his big-name cast, and what he would do with such a serendipitous find himself.
I understand that your film was inspired by a Japanese novel of the same name by Keisuke Sone. How and why did you adapt this particular story?
When I first read the book, I was so impressed that I thought, "It's a feature film kind of novel." When adapting it, I considered, "What should I accentuate? What should I tone down?"
So I changed a lot of the structure. The novel had flashier characters; the border controls official [played by Jung Woo-sung] for example, is originally a detective in the book, and the aspiring restaurant owner (Bae Seong-woo) is a barber. I wanted to use more everyday characters. The ending of the novel and the film are also different. The novel ends more on a moral note, akin to the mother's saying: let's earn our keep; so long that you have two arms and two legs, you can do anything. In the film, however, I wanted to bring the beginning back to the end.
Why did you shoot the film in Pyeongtaek?
I wanted to shoot the film in a single place where — if someone really puts their mind to it — is easy to leave, like a port city. I also wanted to shoot an ambiguous space, one that's in the middle of nowhere. I remember when I visited the city in my 20s and thought that Pyeongtaek was like budaejigae (Korean stew) of different elements — like Korean streets, American influence, rice paddies, a peninsula, and all of these other things. It fit the characters in the film. They all live these incredibly different lives, but they all have to come together in this one city.
Even though your film is based off of a Japanese story, it feels much more like a classic Korean crime-thriller. Did any film directors influence you in particular?
Rather than a Korean film, I honestly thought "Beasts Clawing at Straws" is more similar to the Coen Brothers' "Fargo" (1996). They're both films with a lot of action and laced with black humor and a lot of action. The characters are also similar to those found in "Fargo" — they are all missing something. They make a lot of mistakes; they do not necessarily succeed in everything they do. I wonder if I subconsciously modeled my feature after "Fargo" in its tone and manner. I've always wanted to make something like "Fargo."
Let's talk about your film at IFFR. It feels more commercial, especially with its celebrity presence.
I am also surprised because my film feels so commercial among all these arthouse films. I wanted my film to be something that the audience can relate to, but also have fun watching — like Hitchcock's "Psycho" (1960). Hitchcock inspired me to be a director myself. He portrays fresh new experiences, even in the middle of the story. I want to make a film where even the middle can be a unpredictable, like a real adventure.
How did you recruit big-names for your first feature?
In Korea, "Beasts Clawing at Straws" is definitely positioned to be more of a commercial film than an independent one. The producer was good friends with Jeon Do-yeon so they gave her the script. She was the first one on board. And in Korea, other actors trust her. I think she caught their attention — especially since she agreed to a smaller project where she wouldn't be on screen for the full two hours. So she stirred up the attention of some good actors, legendary actors, for what would otherwise be a smaller project.
Were you nervous to direct them at all?
I started out as a fan of all these actors. But working with them — that's a different dynamic. So at first, I was a little worried. It was nerve-wracking to work with such big-name stars for my first film; they all possess so much charisma. But at the end of the day, they're veterans. They want the film to go well, too. Communicating with them about the characters and the script eased things. It ended up being really fun — even awe-inspiring — seeing these actors breathe life into my script. But in my heart of hearts, I'm still a fan.
Subtitles are also a hot topic in Korean cinema – especially after the success of Bong Joon-ho's "Parasite" (2019). How has your international reception been so far?
I do have some regrets about the subtitles. The final subtitling happened January 18, 19 or so, but we had to send the film here by January 22. When I watched my own film, I realize that a lot of the Korean cultural nuances might not be able to be communicated correctly. When Bae Seong-woo leaves the sauna with the bag of money, for example — and the manager talks down to him — the manager's condescending language would be felt right away. In Korea, we would think, "What a rude guy!" The gangster language, the local dialects are all lost too. It makes me wonder though; are these power dynamics even translatable into English?
There were also moments [during the premiere] when I thought, "Oh, the audience will laugh here," and "the audience will get nervous here." While the timing didn't necessarily match up, it seemed like everyone enjoyed the film. So in the bigger scheme of things, I guess everything is fine.
The film seems to end on an open note, and even suggest the possibility of a follow-up. Does the killing cycle begin again?
I think this is up to the viewer. (laughs) I want to throw the question back to the audience: what will happen to the bag of money? Is it really a happy ending for the original cast – especially the Bae Seong-woo's character [whose house got burnt down]? Could he really build everything back up through hard work alone? I have my own opinions, but I want to keep it open-ended.
I don't know what my next project will be. Will this film need a sequel? I think it'll depend on what makes sense, especially depending on how this will be received.
And finally, for yourself: If you had the chance, would you take the money bag?
I like to believe that I would do something a little differently. I would take just one 50,000 KRW note first — a little discreetly, you know — just in case the original owner doesn't come back for it. And then another after that, and perhaps another after that. By the same token, I don't think I would be really happy using that money since I never earned it. I'd live in fear that someone could always come back for it. With that kind of insecurity, I'd like to believe — wouldn't I give it all back to the police in the end? (laughs)