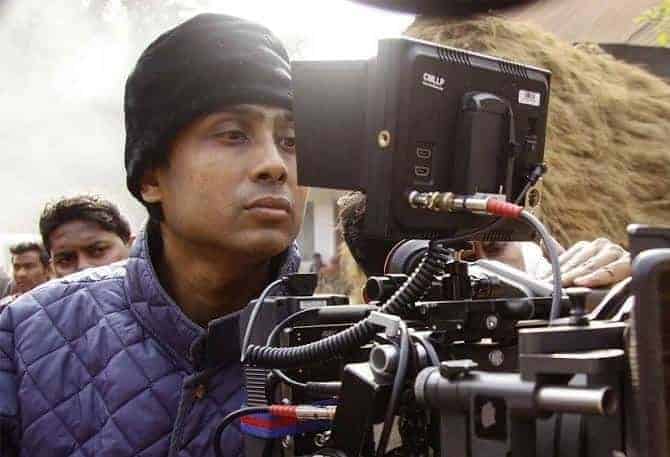 Ranjan Ghosh is an acclaimed Bengali scriptwriter and filmmaker, based in Kolkata, India. In 2011 Ranjan Ghosh co-authored the story and screenplay of "Iti Mrinalini", a Bengali movie directed by noted director Aparna Sen. He started his career as a filmmaker in 2014 with critically acclaimed movie "Hrid Majhare", inspired by Shakespeare's 'Othello' and with elements of 'Julius Caesar' and 'Macbeth' in it. Screened at the New York University Tisch School of Arts in 2015, "Hrid Majharey" was included in their Ph.D. in Cinema Studies (Shakespeare and Indian Cinema). Also, the film and its screenplay were included in the UGC Literature Archive through the Shakespeare in Bengal project conducted by Jadavpur University, Kolkata. Ghosh's second movie "Rong Beronger Korhi" (2018) has a unique narrative where four stories are connected through one single thread- money. His latest movie "Ahaa Re" (2019) is critically acclaimed and a box-office success, is a portrayal of a poetic love story where simple love blooms like a beautiful dish of Bengali cuisine.
Recently we spoke with director Ranjan Ghosh about his movies, influences, future projects and a few other topics.
From a degree in Nautical Science to filmmaking, can you elaborate on this journey?
I had always wanted to be a filmmaker. My interest in cinema dates back to my school days. The first Bengali film I had watched as a child was Ray's 'Aparajito', and I was deeply moved by the experience. Our parents would expose us only to a few select films, and watching those, I was drawn to the world of cinema. By the time I had reached the 10th standard, I had decided that I wanted to direct films. I also knew that coming from a middle-class household, it would not be feasible for my parents to support me financially in this profession fraught with uncertainties, so I joined merchant navy to fund my film education and to support myself in the initial struggling days in the industry. The stint in merchant navy took me all over the world and gave me rich life experiences. The degree in Nautical Science came from the University of Mumbai. I really had to work hard to realize my dream, you know, it was not presented before me on a platter.
Your first movie "HridMajharey" has a strong influence of Shakespeare. Tell us more about the narrative
My initiation to Shakespeare was an aural one. At home, while I would study in my room, I would hear my mother reading out 'Merchant of Venice' to my sister in the adjacent room. They would be having discussions and all that. Sometimes I would join in, sit quietly and listen to them. Then, we studied Julius Caesar in school. Shakespeare was, in a way, seeded into my psyche. I was a voracious reader of Bengali literature in school and in college, but it was during my sailing years that I exposed myself to World Literature. I read extensively Shakespeare, Dickens, Jane Austen, George Bernard Shaw, D.H.Lawrence, and so on. Shakespeare's 'Othello' had devastated me for its themes and the inherent irony. Much later, while pursuing my Major in Screenwriting at Whistling Woods, I wrote a story that had elements of Othello, Julius Caesar and Macbeth. My professors liked the story and I developed it further. It became an original narrative in itself, but was clearly inspired by 'Othello'. So, while 'Hrid Majharey' is inspired by 'Othello' and has elements of 'Julius Caesar' and 'Macbeth', it's not an adaptation. While Shakespeare pundits would find the Shakespearean elements in the narrative, those not exposed to the Bard, would find an independent story. Looking back, I feel this was destined to happen. Its origin lay in my childhood years.
"Rong Beronger Korhi" has a unique narrative where four stories are narrated but all are connected through one thread- money. How did you conceive the theme?
In 2014, I was invited by SRFTI to shoot a short film for them. They liked what I did, and asked me to make a few more. It was then that I wrote these four short stories. This was sometime in 2016, I was going through a financial crunch, and somehow the theme of money and our relationship with it had seeped into the stories. That happened organically, and I was fascinated to find this varied group of people from different strata of the society reacting so very differently to money and wealth. For a tribal couple, money is needed to buy separation as well as love; for a village clerk, it means extra income. For a rich man aware of his impending death, money doesn't mean much, but for his young wife and her lover, it heralds a life of comfort. Again, for a prostitute and her pimp, money signifies survival and struggle, while for a man who just lost both his job and his girlfriend, money means an immediate access to a quick smoke and carnal pleasure. And, finally, to a young 'Dhaaki', money is a means to buy medicine for his ailing mother, and is hence important, but after she dies, money loses its importance and value for the boy.
How did you manage the use of different Bengali dialects in "Rong Beronger Korhi", especially in the first story?
I had done my own research on the dialect. I am an avid traveler, and have been to districts across Bengal. Having interacted with the residents there, one knew something about the different dialects already. During the pre-production, I had invited a few members of the Santhal community, and had gone through the script with them. They had suggested a few words here and there that would lend more authenticity to the dialect. We had kept the dialogues in Bangla for the audience, but tweaked the pronunciation, intonations, etc.
Your recent release "Ahaa Re" has been winning awards and accolades all over. How did you come up with the concept?
I am a foodie but can't cook to save my life! Maybe just an omelet. But I have an aspiration to be a great chef someday. Probably this made me write the story of a chef. My ancestral roots are in Faridpur in Bangladesh. The protagonist therefore became a Bengali guy from Dhaka, who is a celebrated chef there. And, who happens to be a Muslim. Having been dumped by his girlfriend, he comes to Kolkata and meets a middle-class Hindu Brahmin family who supplies home cooked food. And then, I followed their story and tried to discover what happens with this guy, that woman and her family. "Ahaa Re" was a discovery in a way, because after a certain point of time, the characters developed a life of their own. They had their own agencies, did their own thing. I was merely a chronicler.
What prompted you to select Arifin Shuvo, a Bangladeshi actor in the lead, instead of selecting any other big name from West Bengal?
This was pretty easy. I wanted a Bangladeshi Muslim chef, so casting someone from there was logical. Of course, there were big names and very good actors from here, but casting them as a Bangladeshi guy would not ring true to me as a creator. So, I wanted someone from Dhaka. Rituparna Sengupta, who had just finished the shoot of another film with Arifin Shuvoo, showed me his profile. I checked his interviews on YouTube and quite liked what I saw. We met in Kolkata. I knew I had found my 'Farhaz Choudhury'.
While shooting, do you prefer to show the actors exactly what to do and ask them to imitate you, or do you prefer to give some freedom?
We do a brief workshop and a dialogue practice session with Sohag Sen and the actors. That helps a lot. Also, I narrate the script to them in detail. I do not prefer enacting the scenes out to my actors. After explaining the characters and the scene, I let them do their bit. And then instruct them to fit into my vision. I don't over-direct. Sometimes, actors can come up with nuances if we let them be. I try to work around the natural instincts of an actor to elicit what I am looking for. Artistic freedom is absolutely necessary to bring out the best in any good actor.
When you go into the sound studio to dub the final cut, do you try to reproduce exactly what the actor has said in the picture?
Not necessarily. I always try to augment the performance while dubbing. Or, maybe, try out something different altogether to see whether that fits in. If, however, we achieve what we were looking for during the shoot, I do retain that. Sync Sound is always bliss, but, unfortunately, we do not always have the budget to support that.
As a filmmaker, who has been your inspirations and why?
This is such a long list, really. I have an enormous interest to explore the human condition, and I guess I have imbibed this from Ray, Ghatak and Sen. The world of cinema had opened up to me through their films. Later on, I would be influenced by the humanism of Aparna Sen, Goutam Ghose and Rituparno Ghosh. Whenever I feel lonely or depressed, I watch any film by Bergman. It soothes my mind. Kurosawa, Ozu, Orson Welles, Kubrick, Spielberg… have also been strong influences. Actually there's a long, long list!
What about your future projects? Are you working on any script(s)?
I am working on a couple of ideas, yes. I take a long time to write my stories… my scripts… and until and unless I am fully satisfied with them, I don't approach producers or actors. So, presently, I am writing and trying to make myself happy. That, again, is a difficult thing because I am very hard to please! I enjoy this writing process, since this is probably the purest form of creation in the entire process of filmmaking. I love solitude, and writing enables me to bask in ample doses of that!