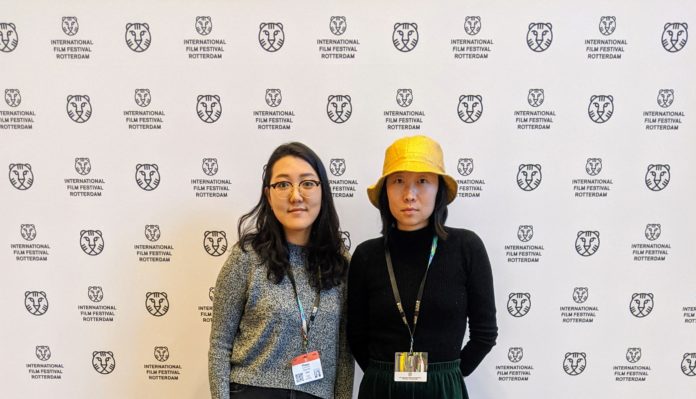 Zheng Lu Xinyuan's Tiger Award-winning feature "The Cloud in Her Room" made a splash at its premiere at the International Film Festival Rotterdam this last week. An elegantly photographed black-and-white film, "The Cloud in Her Room" follows Muzi (Jin Jing) in her existential ramblings across the city of Hangzhou. The film encapsulates the feeling of raw alienation chafing against the search for home, set against the the polarizing pulls between familiarity, the future, and the dread of fruitlessness.
The promising filmmaker, Zheng Lu Xinyuan — educated at USC and now based in Hangzhou — stayed to chat with us at IFFR. In warm conversation at the De Doelen, she told us about her journey to cinema, the importance of the moment, and the universal nature of alienation in a rapidly-modernizing world.
I understand you started studying film later in your education, for a Master's. What drew you to cinema?
It's not like I fell for film at first sight. It grew on me gradually. [As a child,] I would take books from my father's shelves. Before I can read words, I look at the illustrations, pictures and photos. I started taking pictures when I got my first cell phone. But at one point photography wasn't satisfying enough. So I moved on to motion pictures. There are certain complexities that only belong to cinema. When someone walks into a film, he/she can be intrigued by the image, the sound or just a look of the character in a random scene. Sometimes cinema evokes certain feelings and memories that have been forgotten or hidden for a long time. These kind of encounter between cinema and people involved is very charming. By people involved, I'm not only referring to the audience, but also the cast and crew.
You can only live once. If not for film, some of us may never meet in life. Making film is a way for me to live life to the fullest.
How did you get started?
In college, I met Shekhar Kapur, where I was his assistant for an event. He told me that there were no hard barriers for people to make films anymore; people can just use their iPhones. So I started to shoot with my own phone, and he mentored me for few years via email. Later on, I did a project with NYU Tisch in Paris about urban arts and documentary. It was the first time I collaborated with other students on a project — and then I began to realize that it takes great effort to make a film. The program had exercises to open up our senses – to listen, to see, to feel, to tell, to express through multimedia. I had a great time.
"The Cloud in Her Room" feels very personal. Was it derived from your life at all?
The film was shot in my hometown. It's a very modern story about people around my age. It's not directly derived from my life, but it definitely holds some of my memories, people, and experiences that I've had before. I started the script in 2014 when I first moved from China to the US. Being away from home, I started to see things differently about where I was from. After a while, when I went back to my hometown in China, people still saw me as a daughter or wouldn't feel the change within myself, within the city. But whenever I went back, I felt like the place that was so familiar to me had changed.
When we began production later, I didn't want to make a nostalgic piece about the past. I tried to keep the film in the present tense by working with non-professional actors and shooting on-location, reshaping the project in the process of making this film. Once released, the film has its own life. How it impacts the actors' lives, how it interacts with the audience — I just let it be. It's about the film itself and life itself.
How did you direct while adjusting the story to your actors?
Most of them are non-professionals. I tried to cast people who would embrace the roles. I found it interesting to see them approach characters who might make life choices differently than what they actually would. Rather than portraying characters only I imagined, I found it more important to find [the actors' interpretation of the] characters together. Through their eyes, we can experience life differently.
It's also a very fine line between when the actors are real to themselves, and when they push the boundary to be beyond their comfort zones. I think it's really based in a sense of trust – their trust in me, but also their belief in the project. They want to have this experience of exploring something that we may not really encounter if we just lived as we did without this film. So it's really a process of finding this film together.
"The Cloud in Her Room" has a very specific aesthetic. It interweaves interviews, documentary footage, inverted images, and black-and-white tones. Why?
These elements are all different layers of reality. It's also related to the approach we had for the film. There are 3 portions of the footages. I currently live in Hangzhou, the city that we made the film in. I was constantly shooting since I came back from the US. Principal photography took place in 30-40 some days. I also included interviews and rehearsal recordings that are partially scripted. I wanted to document the process when the actors are approaching the characters. The post-production took a very long time though, to merge these layers of reality intro the film. We finished the film right before we came here [to IFFR] (laughs).
As for the black-and-white — I decided upon the aesthetic at the very beginning. Black and white is often used for flashbacks or for dreams, but I didn't want to draw that line. I wanted to make some content that – if people see something, then it really happened, no matter what category that you put it in.
Taking a step back, then: What do you think of the independent Chinese film industry?
Things are stirring in China. Things are developing. I think there is a huge number of people who study abroad and come back. It's definitely a trend happening right now — people want to do their first film back in China. There are many opportunities for young people in the film industry, what with many production companies looking for young talent and new voices. It's very exciting, but it's hard to find the right match. There aren't as many film festivals that are as alive in mainland China. So I think the platform is missing – especially for younger filmmakers. It's a big concern. But there is an energy that threatens to break through the surface. The texture of society is very important to me.
Have you faced any hurdles so far as a new director? As a female director?
I have faced problems as both a female and new director. I would run into a lot of situations where people would ask condescendingly, "Do you even know what you're doing?" I do think we need more female directors. In the future, when the industry is more gender balanced, I want the questions to be less along the lines of, "What is it like to be a female director?" and more like, "What is it like to be a director?"
Do you have any personal goals in filmmaking?
It's interesting to see auteur filmmakers make something that is representative of a certain period of their lives. I think as long as I can stay honest to myself, I will make films that I will be pleased with. I don't aim to be a professional director for hire, and I'm also interested in contemporary art like video art and installations. So it really is based on where the next idea comes from and what else in my life will shape me in the future.
And finally, are you working on any future projects ?
I'm working on a family documentary. It may take a while. I'm still getting to it. I am also considering video artwork, and I have some photographs that I'd like to work into a zine of some sort. When I see photobooks, flipping the page is like cutting and editing — only without the logic of a film narrative. It's possible to automatically make connections between the images, or marinate in the remaining feeling or atmosphere. It's like a circle I'm going back to, but I would also like to move forward from. At the moment, this interests me — of getting an image to a place that is not narrative-based alone. I'm still brewing over many ideas!
Following her win at IFFR, we requested for further comment.
How do you feel winning the Tiger Award? Any comments?
It is a thrill to us and all the people who had accompanied us along the way. I feel it's a great encouragement not only to me, but to the belief that we had for cinema.
Any plans for your prize money?
Let me sleep and rest for 3 days first and think about it! (laughs)