My passion for Hong Kong movies started over twenty years ago when, as an impressionable teenager, I discovered John Woo and his cinematic alter ego in Chow Yun-fat. Over in England we only ever got the action movies released whilst in Hong Kong many of his bigger successes were comedies. Cantonese comedy can be a bit of an acquired taste so discovering this other aspect to his screen persona has been certainly for this reviewer an eye opener.
Buy This Title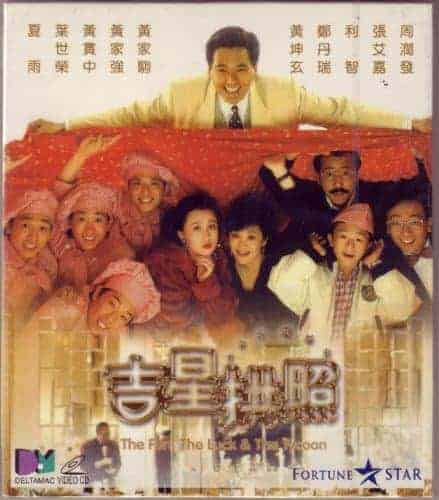 Lam Bo-San (Chow Yun-fat) is the richest man in Hong Kong. Born into a wealthy family and engaged to Cindy (Nina Li Chi), he is howver, longing for an ordinary life, which is why he takes off and accidentally finds himself waiting at a gala event and stumbling upon Hung Leung Yuk (Sylvia Chang) who works in the East East restaurant with her brother Mr Hung (Yu Ha).
He finds himself working for them and gradually falls in love with Yuk. Mr Hung wants her to marry the wealthy Jimmy Chiu (Lawrence Cheng) and as complications ensue, will love triumph over money?
A take on the Eddie Murphy vehicle "Coming to America", there is a certain irony in its theme of love over money. In general, Hong Kong movies favour those whose desire is the accumulation of wealth so it's unusual to see one where the central protagonist starts with wealth but is unhappy. Also his is inherited wealth and those seeking it are seen as less scrupulous to his more innocent view.
Chow Yun-Fat's charisma is on full display walking through the movie with effortless charm like Cary Grant at his peak, as he highlights his ability to be both debonair and slapstick at the same time. Equally good is Sylvia Chang, one of the best comediennes in Hong Kong and whose unconventional attractiveness makes her the perfect foil. The rest of the cast join in the general good naturalness of the movie with the band Beyond making up the principle supporting cast.
The movie is less cynical than often found in Canto comedy with Chow Yun-Fat's innocent abroad playing a large part. There is still a lot of broad comedy to be found (as to be expected) but does provoke genuine laughs.
One of the earlier movies from auteur Johnnie To, there is little of his later style on display. Then again this is not a movie for directorial flourishes. It flows at a good pace, taking time for a second Chow Yun-Fat appearance and doesn't overstay its welcome.
A good entry point to the other side of Chow Yun-Fat. It's not a classic by any stretch but an entertaining romantic comedy and a decent showcase of his comedy timing. With these movies, it's never about the ending but the journey. With an affable central pairing and a sense that everyone is enjoying themselves it's worth a watch.