Pen-ek Ratanaruang (1962, Bangkok) studied in New York at the Pratt Institute from 1977 to 1985 and worked as freelance illustrator and designer. In Thailand he worked for five years as art director, before making his debut with "Fun Bar Karaoke". His filmography includes titles like "6isxtynin9", "Last Life in the Universe", "Invisible Waves" and "Samui Song".
On the occasion of him shooting "Folklore: POB" and "Food Lore: The Caterer" for the Eric Khoo-helmed HBO Asia productions, we speak with him about his career, the two episodes, Parama Wutthikornditsakul, Thai food, and inevitably, the corona virus.
You have been shooting films since the 90's. What are the most important changes you have seen in the industry during that time, and in what ways do you think you have changed as a filmmaker?
The most obvious change would be the industry switching from celluloid to digital. Cameras has gotten smaller and smaller, so are other equipment, making film production cheaper and more accessible to individuals. While this is great for young filmmakers, it has also created an overwhelming amount of junk as well. Another change is the dying out of art-house and alternative films. The landscape seems to be dominated by comic-book films. Until today, I still don't understand what was so good about "Joker". Proper film going experience, like watching films in cinemas, has become a rare thing for a lot of people. it's become like reading a book. TV series is what nearly everyone around me talk about these days but I find it very difficult to become interested in them. I never liked television much anyway.
Another important change is the rise of female filmmakers. Women filmmakers are making their voices heard through films showing the joy and struggle of women around the world. These unique and powerful voices are liberating. And powerful men of the industry could no longer behave like pigs.
However, as a film-maker working through this changing time, I don't think I have changed much. I am still making only films of my own interest at my own pace which makes it more and more difficult to get financed. But I've made many films in the past twenty years that I don't feel the need to keep pace that much. The love of making films is still there as ever, for me, just the enthusiasm has diminished greatly. I've been approached to make TV series and even been encouraged that it was the way to keep making films in the future. Streaming platforms will replace cinemas, so i must adapt. But I just find it hard to make myself interested. I didn't even own a TV until recently (i've grown tired of watching football matches on an iPad). I'd rather read a good book or paint than watch television. Perhaps, adaptability is not my strength after all.
Diversity seems to be one of the most characteristic aspects of your career, in terms of themes, styles, even casting. Is that something you pursued and continue to?
Absolutely. Filmmaking is a journey and so is life. each one of my film reflects my own interests, obsessions and preoccupations at that time in my life. Naturally, my interests, obsessions and preoccupations change as my journey continues, so the films change accordingly. For example, when I made "Last Life in the Universe", I was preoccupied a lot with loneliness and death. When I made "Ploy" I was thinking a lot about marriage and fidelity. In the last 6-7 years, I've become much more political because we had to live for many years under a military dictatorship government, so my film now will naturally become more political. Basically, I don't have control over what may become interested in at any particular time.
However, one consistent issue through out my films is human relationship. It is something I always have an interest. I like listening to people's problems regarding their relationships and for some strange reason, people like to tell me their problems. Maybe, they think I could keep secrets. I don't know…
How did you end up working with Eric Khoo in Folklore and then Food Lore?
Eric and i have been friends for almost twenty years. We've drunk together and served on jury duty together on many occasions. Therefore, when he called to ask if I was interested in doing an episode for Folklore, I didn't hesitate. As much as I've said I didn't like television stuff and have no interest in doing series, this was different. I only had to write and direct my one episode, just like doing one film. Plus, a horror was something I had always wanted to make even though I don't like watching horror films at all. I thought it would be a challenge for someone who hates scary things and loud noises like me to do. The only hesitation I might have had was whether I could come up with anything good. Fear of fucking up has always been my trademark.
We finished Folklore: Pob and the result wasn't bad at all. We were quite happy. Then Eric called to ask again for us to do Food Lore, we said yes immediately because we enjoyed working on Folklore very much. I even suggested to him after Food Lore we should do Fucklore.
Regarding "POB", I read that HBO had some objections about your choices. What happened there?
There might have been a few objections and concerns from HBO but I only remember the black- and-white issue. I was certain when I sent them the screenplay I made a director's note at the end specifying that the entire film would be in black-and-white except scene number so and so and so would be in color. This note somehow slipped their attention and they became alarmed when one of their staff attended our shoot and saw every shot was in black-and-white. They stopped the shoot next day and we talked on Skype. Anyway, they were very respectful and told us to continue shooting the way we had intended and they would decide after they see the rough cut.
When we sent them the rough cut, there was no question the film had to be in black and white. They liked it very much and we never had to talk about the black-and-white issue anymore. I really liked the team there at HBO. They were great to work with.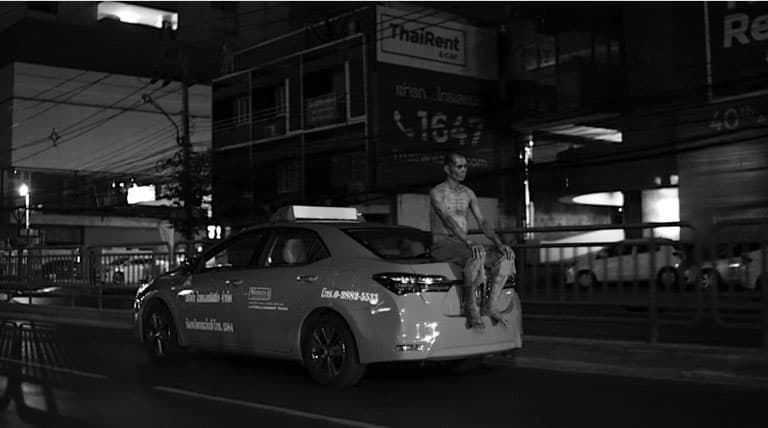 What was the inspiration behind POB, and why did you choose this rather unusual approach to the horror genre? Why in black and white?
Like I mentioned earlier, I was not a fan of horror. I've never watched a horror films except "Let the Right One In" (and that's not really a horror film). I knew there was no way I could scare anybody in a profound way so I had to find my own groove. Most horror films operate on the basis that the ghosts are the bad guys and the humans are the victims. And they do a lot of "jump scares" along the way. I thought what if we turned the table around and made the human really scary, the ghost could become the victim. I had an experience once sitting next to an American from Atlanta on a plane. In a few hours, he spoke to me non-stop telling me his life story, his sick mother, his children, his two divorces, etc. I felt like a hostage because I couldn't escape. We were on a plane. That became the inspiration to the film.
My producer asked me what we would do if HBO were not ok with the film being in black-and-white. I said I wouldn't know what to do. To me, the film had always been black-and-white from the first time I pictured it in my head and somehow I was very stubborn about this. The problem was there was no explanation I could give. I just saw it in black-and-white from day one…
Parama Wutthikornditsakul gives a great performance despite the fact that he is usually an extra in Thai films. Why did you decide to cast him for the protagonist role and how did you guide him for the part?
Among the actors we looked at from the audition tape, Parama had the most innocent and humble presence. He was truly a rural guy. His acting ability may be average but his innocence was the real asset. It made him the perfect "victim". Also, his knowledge of the English language was almost zero and that made him suited for the role even more. During the scenes ,when he looked really confused while listening to the American babbling on, I wasn't sure if he was acting or he was really confused. We had about a week of rehearsal before the shoot, so we worked together to get his gesture and his dialogue right (the ghost spoke northeastern dialect.) but otherwise nothing special was done to guide him. What's funny was usually Parama would be casted to play a monk in other Thai productions. This time, he had to play a ghost, which is the polar opposite.
Regarding "The Caterer", did you shoot it while you were shooting "POB" or later? Why did you decide to shoot an episode that revolves around the making of "POB"?
We shot "The Caterer" about a year later from "POB". Even though the two films share the cast, story, and location, they were essentially two very different films. "POB" was more of a comedy, "The Caterer" was more of a drama.
Thailand is perhaps one of the few countries in the world where we have real cooks cooking food on set for everyone. Every time foreign producers or actors work with us in Thailand, I always hear that they really liked the food and were surprised that we actually brought cooks to cook on set. So, I wanted to feature food cooked on film set for Food Lore. And since we had just finished "POB", I thought why not recreate the shoot we had just finished but point the camera in the other direction. I don't remember what led me to think of this idea. Perhaps it was laziness. 'Make the same film again, just point the camera in the opposite direction' sounded easy enough for me. But the actual making of the film was far more complicated than I thought. The main problem was we (the crew) all had to appear in the film as ourselves, because we wanted the atmosphere of the film set to be authentic, but none of us were competent actor. We were all so nervous. And every shot took so long because we took turns messing it up, missing the marks, dropping things, forgetting our lines, looking stiff, etc. We all swore we wouldn't do this again.
However, it turned out we didn't just make a film about food, but we wrote a love-letter to our kind of film production as well. I was rather pleased with the end result.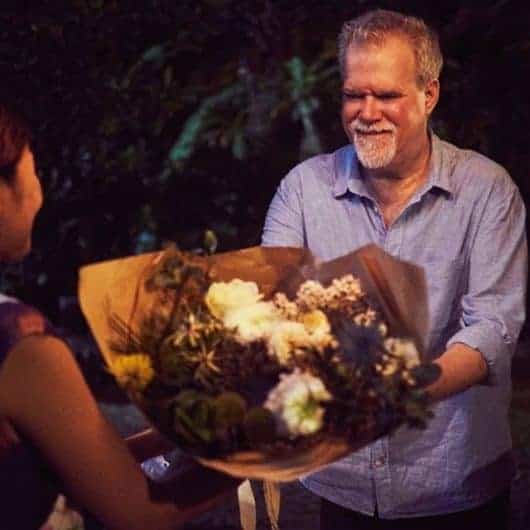 How close to reality is the story of "The Caterer"? How was your cooperation with Thomas Burton van Blarcom in both episodes?
Well, as I said before, we tried to create as authentic an atmosphere on the film set as possible. Each one of us played ourselves doing exactly what we do in our day job. The food served in the film, however, was a little too lavish for such a low-budget production, but it was a film about food that we love so we allowed ourselves a little indulgent. The tension created on set by the arrogant American actor was pure fiction. Real life Tom (Thomas van Blarcom) was a very smart and sweet guy. He's a businessman and an avid art collector in real life. When we began the production on "POB", he was no actor. But with the help of our acting coach, he learnt very quickly and turned into one after the third day of shooting. By the time we reunited for "The Caterer", a year later, he was a real pro.
Both episodes focus on the ignorance about Thai culture of foreigners who live in the country and the sense of superiority they feel over the locals. What is your opinion on these subjects?
The two films are as much about the sense of superiority foreigners feel over the Thais as the sense of inferiority we Thais feel about ourselves. It has long been ingrained into us that foreigners from the "first world" are smarter than us. They make cars, computers, and send people out into space and talk loudly, while we just cook our humble food, give good massage, and keep quiet. Westerners often think we're shy but actually we're just afraid. That's why Thai people smile a lot. Not because we are nice, but because smiling conceals our fear. So, these films were about the ignorance and arrogance of the super-power as well as the inferiority and submissive nature of my own people. A line of dialogue Pob said to the reporter in the film goes like this, "I was afraid of foreigners all my life. Just didn't know I would still be afraid of them after I'm dead."
Can you give us some details about Thai cuisine? Which are the most interesting dishes one can taste in the country?
I'm not good at cooking, so I can't give you much details about Thai cuisine. All I know is that it's really good for your health because we eat a lot of vegetables, herbs and spices. Like the producer in "The Caterer" said, pig blood soup is really delicious and popular. Beef green curry is also one of my favourites. Mackerel fried rice is really good, especially if you add a bit of lemon to it. Kao-soi (egg noodles in red curry soup) is a popular dish from the northern region. In one of the final scenes in "The Caterer", the American actor was served this dish. During the shoot of this scene, Tom van Blarcom, the American actor, kept messing up so he could shoot more takes. He loved that dish.
What is your opinion of the Thai film industry at the moment?
I hear people in the industry complaining that things are bad. I really don't know much about what's going on because I don't really follow what's happening with the industry. I just grind out my own films and disappear into my own world. I have almost nothing to do with the industry, really.
Are you working on anything new?
Yes, i've just finished a script for a film. We're looking for money to make it. In the meantime, I'm drawing, painting, making s graphic novel, etching and waiting on tables at a friend's seaside restaurant to help out. Staying put at home because of this corona virus has brought everything to a standstill and gives everyone a lot of free time. I love it. If this self-imposed exile from civilization continues for a while, I may even attempt to write a script for television series.