Eric Khoo-helmed "Food Lore" aims to explore a number of social issues throughout Asia, by connecting them with the local cuisines. Ho Yuhang, of "Mrs. K" fame directs the Malaysian entry, although in a style much similar to Hong Kong movies.
Food Lore is available on HBO Asia and HBO
The story revolves around two radically different characters. Tim is an ambitious, multi-leveled-marketer who has moved to Kuala Lumpur from the country in order to hit it big. As the story begins, however, he has not accomplished much, and in fact, his life is in shambles. At one point he meets a potential client in a rather unusual restaurant which is situated in an almost abandoned department store, and that seems to be run by rude criminals, headed by Maki, the chef. At the same time, though, Maki's sambal is excellent, which gives Tim an idea to make a franchise of the place. He even finds some investors, but Maki fights him all the way. Eventually, the two of them strike a peculiar friendship, as Tim gets to know Maki's dramatic story and his love for stray dogs.
Ho Yuhang directs an episode that, like the Hong Kong classics, seems to focus on specific episodes, with the overall script revolving around them. In this case, the first meeting of the two men, the scenes where Maki is feeding the dogs, the violent one that reveals his past, and a couple of others better not revealed are the ones that shape the narrative, with the rest of the elements, including the characters, revolving around them. This tactic can be a bit difficult to get into, but three aspects make the story relatable even to the Western eye.
The first and most obvious one is the food, with Ho Yuhang using it as a base for his story, without neglecting, though, to present it in all its glory, both through its preparation and through the reactions of the people who taste it.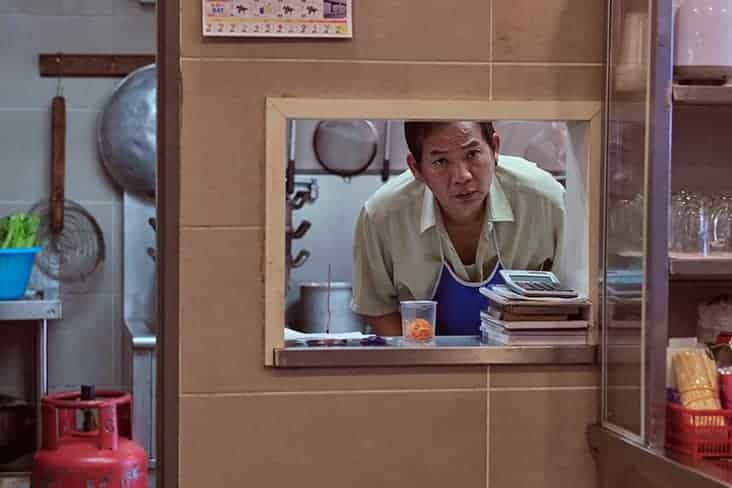 The second is the gangster scene, which, although completely different from the rest of the film, manages to provide a quite entertaining focal point, the most visually impressive scene in the movie, and an interesting reasoning for Maki's mentality.
The third is Fabian Loo's evident charisma as he portrays Tim in delightful fashion, stealing the show on a number of occasions, from his talk to his mother, to his effort to sell, and finally, waiting on tables. Wilson Tin plays Maki with a fitting restraint, despite his rudeness, with the antithesis actually allowing Loo to shine even more.
Lastly, Ho Yuhang makes a comment against the practices of capitalism and in favor of keeping things small and focusing on quality rather than making money, in an almost romantic notion.
"Stray Dogs" is not the most easily watched episode of the series, but still entails enough elements to be quite entertaining.