Lawrence S. Ang is an editor from the Philippines. After studying Communications in De La Salle University, he started editing in 2001, mostly corporate and broadcast videos. The first film he edited was Khavn's "Bahag Kings" in 2005. Since then, he has been awarded for his work in editing multiple times, including accolades for films like "Respeto" and "Apocalypse Child".
On the occasion of the #TheKhavnProject, we speak with him about his career and his many works, the role of the editor in a film, working with other editors in the same movie, and of course, Khavn.
Can you give us some info on your background on cinema (studies, how you started working as editor etc)?
I studied Communications in De La Salle University, where I took an Experimental Film class under Mowelfund's Ricky Orellana. In a field trip for that class, we had the opportunity to sit in on a color grading session for Jon Red's Still Lives. Something clicked, and I taught myself how to use the only AVID station in school, since there were no film editing classes then. Upon graduating, I took a couple of workshops and applied to work as an editor for corporate clients, and eventually set up a home office.
How did your cooperation with Khavn start, and how did you end up shooting all those movies together? Are there some that stand out for you and if the answer is yes, which ones?
In 2005, I saw Khavn's "The Family That Eats Soil" in Cinemalaya, and became a fan. When I found out that he was looking for an editor for one of his new films, I introduced myself through email. I don't think we even met before the miniDV tapes they shot for "Bahag Kings" were delivered to me. I expected a script to be sent with the tapes, but I only got a phone call from him, saying I should just watch everything and assemble it however I like.
The following year, I was sent tapes for a few more projects, and before I knew it, I was editing 3 to 4 films a year.
"Bahag Kings" was where I dumped all the corporate motion graphic tricks I was sick of doing for my day job. Even after "Squatterpunk" premiered, I kept tweaking it when I saw things I wasn't happy with, so there was a time I could play the whole film in my head. For the short film version of "Ultimo: Different Ways Of Killing A National Hero", I sped up, exported, then slowed the footage down again to get this degraded look. And at that time, for me at least, it was like the best original idea of the century.
When I was editing "Philippine Bliss" & "The Muzzled Horse Of An Engineer In Search Of Mechanical Saddlest", there was a new color grading filter we were using at work, and I applied it to the footage as an ironic gesture, thinking it would be scrapped. But nobody asked to take it out, so it stayed.
I remember "The Trial Of Mister Serapio" as the hardest to edit offline, because they shot each character on a black backing, independent of the other characters without IDs or slates; I had to cut the raw footage up to organize all the different characters, according to their scenes, through numerous continuous takes. I survived!
I also shot additional footage for Khavn and Michael Noer's "Son Of God". Sometimes, I was in front of the camera, like in "Mondomanila" and the short film version of "Ruined Heart". I remember shooting behind-the-scenes footage for "Mondomanila", which may be trapped somewhere in analogue miniDV heaven.
How would you describe Khavn as a person? How would you describe Khavn's cinematic style?
For me, it would be difficult to separate Khavn the person & the filmmaker. His films are literary because he also writes poems. They are musical since he also performs with a band or as a solo artist. The collaborative nature of his films is obvious because he actively looks for whatever surprises the cinematographer, editor, production designer, actors, etc can give the project.
Khavn keeps himself busy. There was a time when we were always in bars like Mag:net or Mogwai for gigs, poetry readings & film screenings that he organized. For these events, I usually prepared the video installations to be played in the background.
Regarding the editing in his film, in an interview I had with him, Khavn stated:
"Ideally, the editor hasn't read the screenplay, if there is one to begin with. Most of the time, there isn't. I also ban the editor from the pre-production and the shoot itself, so he has a fresh take on things. The virgin kino-eye, in a manner of speaking. The exquisite corpse of filmmaking. When my editor sees the footage for the first time, I tell him to forget chronology and assemble the scenes the way they appeal to him. Editing (along with sound design and coloring) is the last stage of film writing. Some editors like the challenge—that they're not treated like typewriters, computers; that they're collaborators in the truest sense. Some editors can't take that. They explode."
How does that work for you? Is it as difficult as it sounds?
I haven't exploded yet, which should be a good sign.
A lot of Khavn's feature films are actually comprised of shorts he shot previously. How does this work in terms of editing?
The second film I edited was "Squatterpunk", which incorporated 3 previous short films. Their thematic similarities with the footage for the main feature made for an organic juxtaposition, so that was easy. I also remixed those short films a bit, given that there was a new musical soundtrack.
"Overdosed Nightmare" came from more disparate elements. The two main sources we used were a short film version & an aborted version of "Mondomanila", each shot with different actors as the main character. We approached it as an abstract / dream logic version of the text, adding footage Khavn shot of street children, the homeless, and found-footage of a recreation of Jesus' crucifixion.
When making these types of films, it is like editing a documentary, where, instead of looking for a narrative thread, you try to weave an extended mood, complete with tonal shifts and sometimes the occasional twist. There are times when Khavn writes intertitles or poems as chapter stops, breakers, or even random fillers.
There are many misconceptions about where the role of the editor stops and that of the director begins. Can you give us some details about your work, in that regard? Who is usually responsible for the pace of the film?
My editing mentors from my first job were Carol Gancia & Candy Cantada, who used to work for Probe Productions, a news & documentary production company. I was trained to really watch the raw footage & assess which elements were essential to the story that has to be told.
In this regard, it took little adjustment on my part working with Khavn, usually without a script, to belatedly answer the earlier question. The next few filmmakers I worked with (Jim Libiran, Raya Martin & Sherad Sanchez), I met through Khavn, and so, they more or less knew how I worked. At the time, they shot in a style that was compatible with how I handled the raw footage. More importantly, I got along with them outside the editing room.
As with all of filmmaking, editing is a collaboration. Pacing is something an editor can set initially, according to his understanding of the script, talks with the director, and the dictates of the footage. Then, when you start revising with the director, the slightest change can alter the film's pace. The key for me is finding out what the director wants to communicate, and achieve a balance between the original intent and all the shit that happens during production.
On "Orphea", there were four more editors apart from you. How did that work?
On "Orphea", we simply edited Khavn's version of the film and sent it to Alexander Kluge. He then shot and edited his parts for the film, and we sort of went back and forth with tweaks, taking care to not replicate scenes & musical cues from Khavn's original version. This was all done online, through Google Drive or Vimeo links.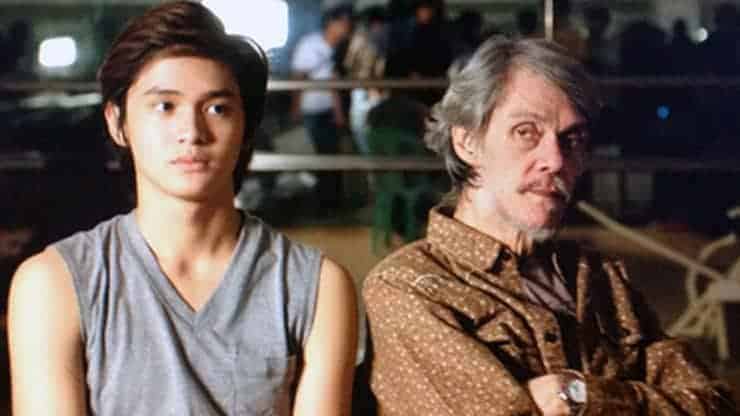 Can you give us some details about your cooperation with Treb Monteras II (Respeto), Mario Cornejo (Apocalypse Child), Pepe Diokno (Above the Clouds), Jade Castro (Zombadings 1)?
Zombadings: I was asked to take over, when the original editor had to leave. I think they were more than a dozen drafts in, and I cut 30 minutes off for starters, just to tighten everything. It was one of the first films I edited with a script. I remember at least a couple of presentations with Jade and the rest of Origin8, wishing I could do a better job.
Above The Clouds: This was my first project with Epicmedia, and I was on location in Baguio for DIT work & initial assembly. The coverage was pretty simple, and there weren't much choices in the edit, so I always finished working early. Raya visited the set, then he toured me and my assistant editor around Baguio, and we got to meet Kidlat Tahimik.
Apocalypse Child: A crucial editing decision here was compressing half a dozen sequences worth of footage into the music video interlude in the middle of the film. Mario came up with the idea when there were a couple of subplots that went nowhere, and we got a new Armi Millare song out of it, so that was a win-win situation. Some cuts in this film surprise me when I watch it; dunno what that means.
Respeto: This is one of those films where the original tone of the script changed when production started. Originally, when the main character's love interest was raped, he was supposed to "save her honor" with a conclusive rap battle. This started a discussion about how the film treated women, being just an instrument of the hero's coming-of-age story. Eventually, it was recut so our hero effectively becomes mute because of the incident, also made helpless in the face of oppression.
Which were the most significant changes you have witnessed in Filipino cinema and which in the field of editing? What is your opinion of the Filipino film industry at the moment? What impact do you feel the virus will have on the industry?
There are a lot more films being produced now, though I never really have the time to watch them. I'm assuming the industry is about the same, based on what I read from the reviews. Maybe I'll have a better opinion after the lockdown, since I'm watching more films now than my entire life pre-quarantine.
In post-production, I think there's an unending race to keep up with the latest technology. Just when you get the hang of this codec or that delivery format, they invent some way to fuck up your workflow and you're forced to purchase some software or gadget.
This virus put everything to a halt, and things are already changing. There are a lot of capable people in the industry thinking about this, so I'm not worried for them. As for me, the small production company I put up is going bust, so I'm thinking of retreating to the province with my girlfriend and maybe start working in agriculture.
What new projects are you working on at the moment?
I was about to finish a feature film that was shot last year, before the virus struck. And there's this film that Khavn shot that I should be editing, but the hard drive got trapped in the office when they started the lockdown. Last week, I heard from another director that there's a new short film that's going to be shot in June.
So maybe it's time to get a laptop, and try editing under a big mango tree.