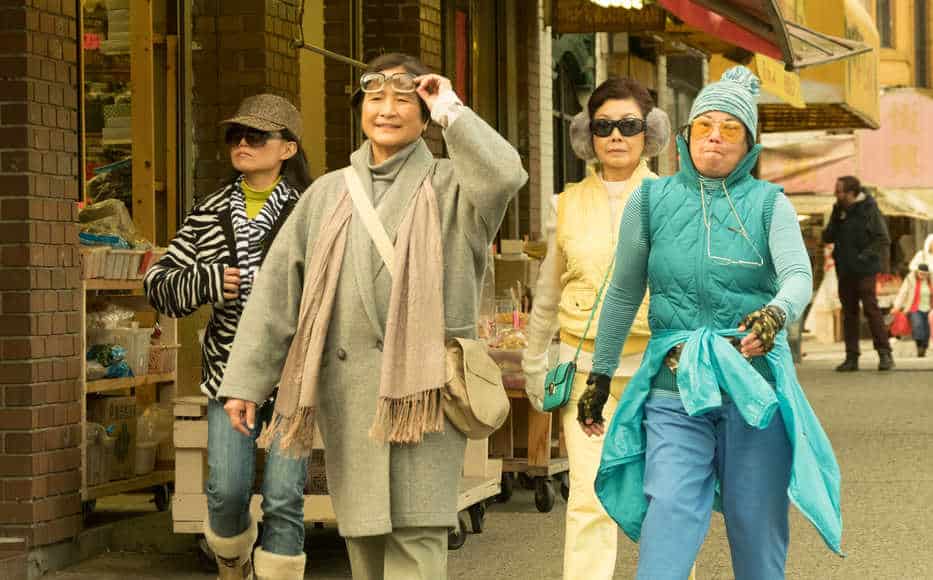 Film programs include a retrospective on Malaysian filmmaker Yasmin Ahmad, a new film from one of the most-recognizable artists in Asia, Sylvia Chang ("Love Education") and another from veteran Asian Canadian director Mina Shum ("Meditation Park").
Eight Māori female directors deliver "Waru," a film in which all eight parts start at 10 a.m., are told in real time, are a single 10-minute take and each feature a Māori female lead.
San Diego, California – March 22, 2018 – The 8th Annual San Diego Asian Film Festival (SDAFF) Spring Showcase , presented by Pacific Arts Movement (Pac Arts), today announced its lineup of 15 films from nine countries, including four North American premieres, one west coast premiere and the only third-ever U.S. retrospective on prolific Malaysian filmmaker Yasmin Ahmad.
"Once again, Asian filmmakers took our breath away with wide-ranging works that demonstrate the diversity of experiences and sensibilities on three continents," says Pac Arts Artistic Director Brian Hu. "But this year more than ever, that variety of perspectives is seen in works directed by women, who helmed a majority of our film lineup. Women don't just add diversity to a lineup; they are themselves diverse in spirit and worldview."
This year's SDAFF Spring Showcase will also premiere two Sundance films, "Kusama – Infinity" and Sundance Special Jury Award-winning "Minding the Gap".
Program Highlights
Meditation Park | Opening Night Film, April 19
Cheng Pei Pei, Tzi Ma, and Sandra Oh headline a comedy of self-discovery about 60-year-old Maria, whose marriage seems the paragon of happiness until she finds a mysterious piece of women's underwear in her husband's pocket. Maria starts sleuthing around for answers, and in the process, learns to value life on her own terms.
Falling for Angels: the Films of Yasmin Ahmad | Special Series, April 22
This year's SDAFF Spring Showcase special series is Falling For Angels: The Films of Yasmin Ahmad , a presentation of the work of Malaysian filmmaker Yasmin Ahmad—her three final features, last short, and an assortment of commercials—in only the third-ever U.S. retrospective of her work in the timed to the North American premiere of Yasmin-San, a new documentary about the filmmaker's legacy in Asian cinema.
Ulam: Film and Feast | Special Presentation, April 23
In the spirit of "Ulam: Main Dish" , Pac Arts presents a kamayan-style feast prepared by fifteen of San Diego's brightest Filipino culinary talents, who will offer their own interpretations of the kamayan "ulam" elaborating on the film's themes of authenticity, the mutations of taste across cultural lines and Filipino American culture.
Kusama – Infinity (West Coast Premiere) | Closing Night Film, April 26
Yayoi Kusama wasn't always the biggest artist in the world. Once a budding painter sending fan mail to Georgia O'Keefe, she arrived in New York City in her twenties in search of supporters who could see her as more than just a woman or Japanese. Her journey from obscure outsider, to art scene trouble-maker, to one of the most iconic artists of her generation, is a true inspiration.
Complete Spring Showcase Lineup
1987: When the Day Comes – South Korea, 129 mins, directed by Jang Joon-hwan
Kiko Boksingero (North American Premiere) - Philippines, 80 mins, directed by Thop Nazareno
Kusama – Infinity (West Coast Premiere) – USA, 78 mins, directed by Heather Lenz
Love Education (North American Premiere) – China, 122 mins, directed by Sylvia Chang
Meditation Park – Canada, 94 mins, directed by Mina Shum
Minding the Gap – USA, 98 mins, directed by Bing Liu
Muallaf – Malaysia, 80 mins, directed by Yasmin Ahmad
Mukhsin – Malaysia, 95 mins, directed by Yasmin Ahmad
Mystery Kung Fu Theater – no details needed
Take Me to the Moon (North American Premiere) – Taiwan, 105 min, directed by Hsieh Chun-yi
Talentime – Malaysia, 120 mins, directed by Yasmin Ahmad
The Third Murder – Japan, 124 min, directed by Hirokazu Kore-eda
Ulam: Main Dish – USA, 80 mins, directed by Alexandra Cuerdo
Waru – New Zealand, 86 min, directed by Briar Grace-Smith, Casey Kaa, Ainsley Gardiner, Katie Wolfe, Renae Maihi, Chelsea Cohen, Paula Jones, Awanui Simich-Pene
Yasmin-San (North American Premiere) – Malaysia/Japan, 70 mins, directed by Edmund Yeo
Filmmaker & Talent Interview Opportunities
The following guests, filmmakers and talent are scheduled to attend the SDAFF:
Director Thop Nazareno (Kiko Boksingero), Tagalog/English
Director Heather Lenz (Kusama – Infinity), English
Director Mina Shum & Actor Tzi Ma (Meditation Park), English
Director Bing Liu (Minding the Gap), English
Director Alexandra Cuerdo & Producer Rey Cuerdo (Ulam: Main Dish), English