The days of one-armed bandits featuring fruits like cherries, grapes and melons are long gone. Visit an online casino today and you'll be bowled over by the sheer range of different themes and subjects within slot games. From mermaids to leprechauns and fairgrounds to goldmines, you'll find all these and more.
Many slot games have been inspired by the movies. This suits all parties involved – for slot game manufacturers, it's an opportunity to widen the appeal of their products to fans of specific films, rather than just gamblers generally, and film studios get to add to their merchandise and generate more publicity for a movie.
It also benefits players, too. The fact that today's technology means that slots can also feature clips and sound effects from the movies themselves – making them more immersive than ever before. We've also seen that this is a phenomenon that can cross genres to appeal to some very different kinds of film fan.
From comedy to horror: the range of slot games based on Hollywood films
One of the most popular film-based online slots you'll find is called The Big Lebowski. This is based on the 1998 film written and directed by The Coen Brothers of Fargo and Oh Brother, Where Art Thou? fame. The movie tells the story of a California slacker and ten-pin bowling fan called Jeffrey "The Dude" Lebowski played by Jeff Bridges. The complex plot involves kidnaps, mistaken identities, and lots and lots of bowling. Although the film was a bit of a flop when it was released – only grossing $15 million in the US, $2 million less than its budget – it went on to enjoy cult success. Today it's earned a total of over $46 million across the world.
The slot game version of this film perfectly captures the anarchic and counter-cultural fun of the movie while using plenty of imagery from it, too. Of course, another element that has ensured its success has been its progressive jackpot feature which means some big Big Lebowski prizes are there for the taking.
Then, for a complete change of tone and scene, there's the incredibly popular A Nightmare on Elm Street slot. This world-famous franchise of slasher movies that has produced one of the most iconic horror characters of all time: Freddie Krueger. As fans of the movie series that began in 1984 will know, Krueger comes for his victims when they're asleep, so part of the object of the slot is to trigger games to keep players wide awake.
Using images and sound effects from the film, it manages to be both genuinely creepy and really exciting to play, too.
The Asian influence
Naturally, the huge popularity of films in Asia has also been a driving force behind some equally successful slots. This is a trend that is set to continue with the growing box office potential of the region. For example, MPAA figures show that revenue from Asian movies in 2016 was a total of $14.9 billion, a 44% rise from 2012 and a 7% rise from 2015. Granted, these figures include all films seen in the region – including Hollywood blockbusters – but there's no doubt that the film industries in Japan, Korea and China are thriving, too.
Of the slots already created and ready to play, Ghost in the Shell is probably the most high profile, with a legion of followers. Although the original inspiration for the slot came from the manga released in 1989, it's a series that has appeared in many forms including the original comic, the anime and a TV series that was created from it – as well as the 2017 film starring Scarlett Johannsen as Major Mira Killian.
When the film was released in China, opening weekend figures were a little disappointing mustering only $20.3 million in ticket sales. In the US, the figures were also well below expectations at just $18.7 million, a long way short of its estimated $250 million production costs. Despite this, the film has seen steadily growing revenues worldwide and even made it onto the Academy Awards shortlist for visual effects and hair and makeup.
Plenty of critics enjoyed the film, too, praising its inventive special effects and fast-paced storyline, which is captured perfectly on the slot game. Using manga imagery as opposed to film shots, it goes back to the story's origins and perfectly captures the futuristic setting and atmosphere.
What inspired City Life?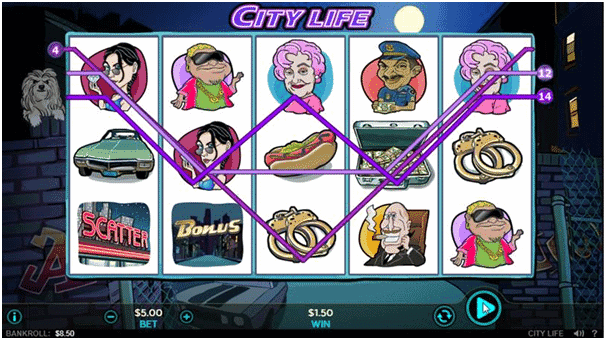 There has also been much debate about which particular Asian action film is being referenced in the game called City Life, another hugely popular slot game. The cartoon-style imagery in its design certainly points to a manga, or the Korean 'manhwa' alternative. The characters on the reels of suitcases full of banknotes, shifty-looking cops and cigar-chomping gangsters – all the ingredients of a classic Asian street story. Is this slot game based on New World, Park Hoon-Jung's 2013 thriller, or the 2016 Taiwanese gangster tale called Godspeed?
For our money, the most likely candidate is the South Korean crime tale Asura: The City of Madness. Directed by Kim Sung-su and released in 2016, it's a tale of power, violence and corruption featuring dishonest police and politicians with many twists and turns, not to mention reversals of fortune. No doubt it's more the thought of fortunes to be won that the game designers had in mind and, to help you on your way, Asura: The City of Madness even features a Streetwise bonus game in which you can take on the local hoodlums in the hope of coming out on top.
Why do we think this is the inspiration? It's the inclusion of the word "city" in both titles as well as the dark and sinister underworld represented in them both. But whatever its origins, it's spellbinding graphics and engaging gameplay make it one of the more popular slot games out there today. And if you want to sample more games, just check out the many other fun slots at 888casino.
Slot games really are a must for any film fans – be them Hollywood comedies and horrors, and even Asian-made films. As well as keeping movie enthusiasts entertained, these slots can also cash out some pretty huge jackpots. So if you're partial to a movie or two, you've got the perfect excuse to try slot games.