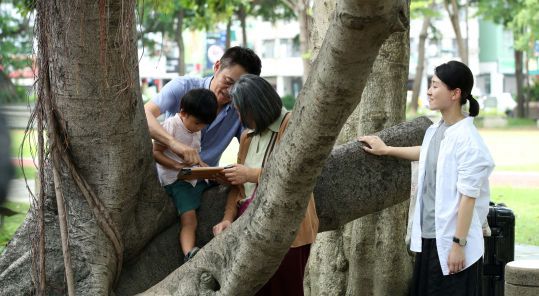 Screening at multiple festivals and nominated for awards at both Locarno and Hamburg for 'Best Political Film' and 'Best Film' respectively, the semi autobiographical 'A Family Tour' is Ying Liang's first film since 2006's critically acclaimed 'When Night Falls'. The prevailing years since being the inspiration for his new feature, Ying tells the story of a young independent filmmaker using a film festival in Taiwan as a way to spend time with her exiled mother. 
'A Family Tour' travels us through Taiwan with our protagonists film called 'Mother of One Recluse', an identical story to that of Ying's own 'When Night Falls' with a tale of a distraught mother who's son has been accused of a very serious crime. Travelling with her husband and young child, they follow her exiled mother's tour bus under the ever watchful eye of the tour organisers. There are some delightful moments between the young child and grandmother, who until now had only ever known each other through a computer monitor using Skype. 
Ryuji Otsuka does a wonderful job as cinematographer, choosing to film using natural light as often as possible, giving the film a truly warm and authentic feel. The use of panning shots in busy crowds gives you a sensation of inclusion to each scene. There is little to no music, but the busy sounds of the city and nature create a soundtrack in itself. It gives you a connection to the film and an understanding of the environment, in what seems such an effortless way. It all ties in to make it a believable experience for the viewer, which, given the movie relies so heavily on dialogue and conversation between our characters, keeps you more involved.
Nai An (Rou qing shi) plays our young filmmaker with authenticity, her husband Pete Teo (Ghost in the Shell) is at times forgotten in the dialogue between Chen and her mother, but plays such an honest supporting role. Gong Zhe as the aforementioned mother plays a touching part, bringing some of the more heartfelt moments of what an isolated person such as her character deals with when finally reunited with family. 
It's a very sad story for a westerner such as myself to try and fully comprehend, given the writer and director has and is living this life. I'm not sure it's possible to completely understand the magnitude that people of a repressive government deal with in trying to live their life, and especially that of the life of an artist. The simple freedoms to be able to question what the leaders of your country are doing with the decisions they make, is a freedom I can't imagine not having. The discourse that it creates with mainland China and those involved is something that saddens me, but ultimately is the life they will continue to live for many generations to come. Ying's film has given me a very honest and eye opening look into this repression, in what is a very slow burning yet enjoyable glimpse into such a terrible reality people face every day.