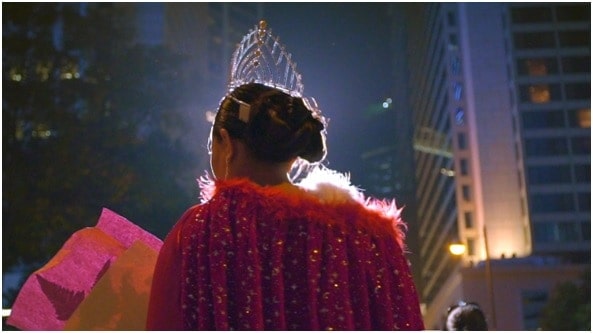 by Leandro E. Seta
Winner of the 2016 Metro Manila Film Festival for Best picture and Best editing –Chuck Gutierrez- was the first documentary to ever win the MMFF main category; it was also the first time a documentary was nominated to the best picture.
"Sunday Beauty Queen" screened at the 7th Annual Asian Film Festival Spring Showcase
"Sunday Beauty Queen" tells us the stories of OFW´s (Overseas Filipino Workers) who have left their homes, families and children, and traveled to Hong Kong looking for a better paid job, working as house helpers 24 hours a day, 6 days a week. When Sunday, the only free day of the week arrives, they gather to organize beauty pageants.
"Beauty it´s not about having a pretty face it's about having a pretty mind, a pretty heart and most important, a beautiful soul". – one of the Filipino beauty contestants says at the beginning, as she laughs about how cliché that phrase sounds. Now, cliché does not mean untrue or mistaken, it´s just something that we already know and has been heard many times to really matter, its importance has been forgotten at plain sight, but the idea itself it´s correct. And when a concept so true (like in this case) underlies the main line of thought, investigation about the subject can only confirm it by turning something in the back of your head into a reality that affects you personally and emotionally.
Baby Ruth Villarama has been dedicating the past 6 or 7 years to produce and direct documentaries along with her husband and editor Chuck Gutierrez. She has a marked talent to find the unusual pearl inside the ordinary life and the beauty of the troubled world, and accomplishes that difficult task by turning complex ideas into deep emotional bonds. She commits us and immerses us with quality resources, contrasting colorful and flamboyant Hong Kong with the harsh and almost slave work conditions of OFW´s. she resolves with talent, keeping the crudeness of reality, and retaining the neat line of narrative that keeps us from wander.
Dexter Dela Peña's cinematography makes us conveniently feel more comfortable in the outer takes as we have then time in the right amount to assimilate stories, while scenes inside the houses make us feel observers of other people real life like intruders or guests, in the best case. We eat standing in a kitchen while we see through a window-door a family seated at the table; we sleep in the floor by the refrigerator and watch how airplanes in the sky fly to the home country we have left behind. Multi awarded Chuck Gutierrez's editing connects the various scenes splendidly, as he matches the ideas of the director perfectly.
Nevertheless, a subtle aura of protective hope surrounds our queens, we get to love them and we want them to succeed, to make good choices and finally progress. Accomplishing our empathy by being no more (and no less) than true, seems to be a consequence of real inner beauty.
"Sunday Beauty Queen" is a wonderful testament to the lives of Filipino domestic workers and, through them, manages to build empathy towards immigrants working all over the world, but it´s not restrictive to a particular culture or type of worker. It is about questioning our priorities in order to accomplish dreams, about searching for deeper meaning in our daily struggle and the true significance of beauty.