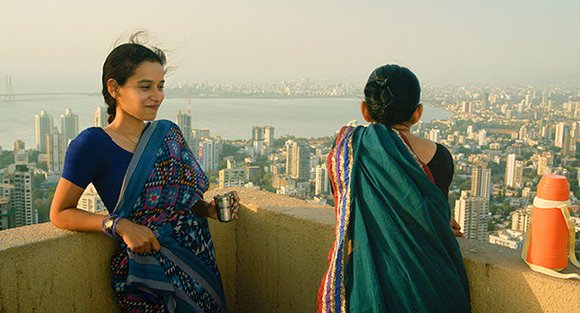 When Indian independent cinema deals with intercaste relationships or the issues involving employers and their servants, it usually produces dark, gritty and high-caliber dramas. However, "Sir", the feature debut of director and screenwriter Rohena Gera, is crafted in a completely different style. It doesn't fall into the same category as critically acclaimed "Fandry" by Nagraj Mangule or classic like "Paar" by Goutam Ghose, but this is not a flaw. Quite the opposite, the female director's approach is pleasurably refreshing.  
"Sir" is screening at London Indian Film Festival
Before "Sir", Gera came out with a witty documentary "What's Love Got to Do with It", which was an interesting portrayal of a young privileged generation of Indians, exploring their expectations about love and marriage. The film also raised the issue of family and gender roles that prevail in society despite the changing lifestyles. "Sir" explores those further, but in a fictionized manner.
Ratna (Tillotama Shoma in yet another interesting project), a young widow whose husband died a couple of months after their wedding, left the countryside to work in a big city, because back in her in-laws' house she was just another mouth to feed, a burden. Having an occupation, she fought for some respect of her extended family members. Obviously, due to financial support she provides sending her earnings, not the qualities of her character. With her hard-earned money, Ratna wants to give her younger sister opportunities she never had – an education. She perceives it as a gateway to freedom and independence, on top of it being a chance to live with dignity. She herself is only a domestic help, though living away from the conservative rural society and its scrutiny, Ratna tastes the joys of freedom. At home, she would lead a colorless and full of restrictions life of a widow, deprived of the right to happiness. In Mumbai, she blends into an anonymous crowd, not hampered so much by the restraining traditional rules. Here no one cares about her past. A contrast between those lifestyles takes the symbolic form of bracelets. Ratna wears them in Mumbai, but on the rare occasions when she hesitantly visits her home village, she scrupulously hides those bangles in her bag: a widow shouldn't adorn herself with jewelry.
Ratna works for Ashwin (Vivek Gomber), the son of a wealthy developer. Ashwin, who helps his father run the family business, has just parted ways with his fiancée, right before their planned wedding, because of her affair. However "Sir", counter-intuitive to the title, is not the story of Ashwin, but of Ratna. It is a tale about a high-spirited woman capable of finding her independence and liberty, who is not a victim, and who doesn't allow others to make her a victim. She is an autonomous individual making her own decisions and dictating terms, emancipating herself despite the economic and social odds. Ratna is not seeing her place in society as defined and set once-and-for-all (as the old caste order would dictate).
Gradually, the director discloses the surprisingly close ties between Ratna and Ashwin, based on mutual respect and empathy. Their bond begins to develop, but you shouldn't expect a conventional "Cinderella" tale or a disturbing, stifling atmosphere of Zoya Akhtar's short included in Netflix's "Lust Stories".
The high-rise flat which is the set for most of the screen time, is not a claustrophobic space generating tensions. It is a bright, roomy, modern apartment overlooking Bandra (a posh locality by the sea, popular with celebrities). Ratna often spends time on the roof terrace, looking down at the metropolis at her feet, breathing in her freedom. Even though her most personal space is a narrow cubby hole, it doesn't seem to be the symbol of humiliation and subjection. Rather, the sign of the economic disparities.
It is interesting that Ashwin is not portrayed as someone who's position gives him freedom. In many aspects, he is more entangled in societal dos and don'ts than Ratna. On the surface, he leads a dream life with plenty of possibilities that money give him, throwing parties for well-doing friends, traveling, and playing squash. But the truth is that he has always been trying to please his family instead of thinking what he wants. And no money can remedy loneliness. Slowly, Ashwin realizes the bitter truth about the emptiness of his life, while he observes Ratna making attempts to change her status quo. She is reaching higher, trying to pursue a different career, and she doesn't give up whenever someone tries to put her in line of the old pecking order.
The other strong female character is Ratna's best friend who is working in the same block (Geetanjali Kulkarni, the memorable prosecutor from "Court"). The brisk scene when she talks to a young lad, from whom she borrows his scooter, shows her spirit well: he jokes that it's good she didn't crush it, and she replies boldly that she drives longer than he lives.
"Sir" doesn't speak the hermetic language of arthouse. We can situate it somewhere halfway between the parallel and mainstream cinema. Although it shows the reality a bit too smooth to be true, it doesn't annoy with banalities often present in the latter, and it doesn't fit usual romantic conventions. The most enjoyable aspect is the way the movie plays with clichés, not portraying typical exploited servant, slowly destroyed by those at power. The director serves us a character-driven empowerment story, told thoughtfully and with subtle humor. Overall, it is a feel-good movie, but apart from offering a heartwarming blanket, it puts interesting observations on modern classes and the generational changes that create more opportunities to climb a social ladder.
And last but not least, it is a lovely portrayal of modern-day Mumbai, without the postcard shots of major landmarks, showing the city's skyscrapers, traffic, never-ending buzz, and street hawkers, along with a lively Ganesh Chaturthi celebrations.