Sometimes you just need to laugh! But, when you're looking for hilarious things, many people don't think of Asian films. There are many funny Japanese movies that you can watch (and laugh at) again and again! Asian comedy movies are humorous in a new way that most western watchers won't have realized. And if you're learning (or already know) how to speak Japanese, then you're certainly going to love these. It's a more entertaining way to test your skills outside of school or college, writing, or educational videos. This list is comprised of six of the funniest films you could find from the Land of the Rising Sun, and even beyond. What is the best Japanese comedy movie? You're going to have to figure that out yourself!
Maiko Haaaan!!!
The trope of a guy chasing girls that stray just outside of his reach has long been comedy gold. In western society, we usually see it as a nerd trying to get the cheerleader. Here, it's a ramen executive trying (and failing – spectacularly!) to get the geisha of his dreams. This infatuation starts at a young age, and it follows the lead character, Onizuka Kimihiko, into his career. There are many etiquette rules that go along with the world of the geisha and watching him try to follow them while pining desperately will keep you roaring. Add in a possessive ex-girlfriend as well as a basketball star rival that happens to frequent a geisha house, and you'll be in tears the entire time!
Nakumonka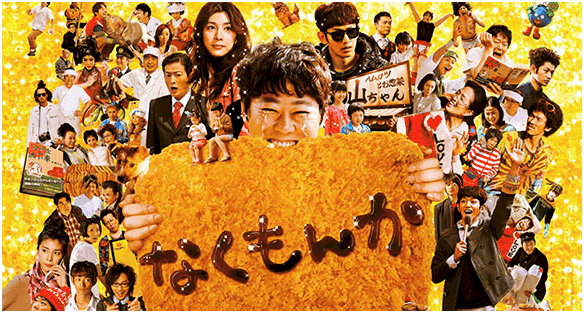 This movie is both a funny as well as heart-warming tale that digs deep into the values that make Asian cultures so great. The story follows two siblings, Shimoigusa Yusuke and Shimoigusa Yuta, who were separated by family circumstances before Shimoigusa Yusuke was even born. Raised by completely different people, they finally discover the existence of one another and decide to meet. These two clashing personalities are sure to be a funny combination for everyone watching! But it isn't just comical. Will the two brothers be able to become a family, despite being so different? Can they bring their families together for the good of everyone? It's a truly great movie that will leave you not only entertained but happy. Do yourself a service and watch it.
Shazai no Ousama
Everyone is afraid of committing a social faux pas. Perhaps you copied an essay someone was writing, or you misused certain services. The last thing you want to do is to have to come up with an apology while you're red in the face, embarrassed from your mistake.
Shazai no Ousama centers around that very premise, and one man's ingenious solution:  An apology service. Kurojima as well as his Tokyo Apology Center takes center stage in this hilarious film. A master of Japanese apology techniques, he won't stop until his client is completely forgiven. And you won't stop until you're crying from laughter! Forget your Japanese homework (or at least turn it over to best essay writing service in UK), and give this a watch. This is a hilarious movie that anyone who's ever had to apologize fervently will get a kick out of.
Warai no Daigaku
The setting for this movie is actually rather unique and heavy: Japan in the 1940s. It was the time of war, censorship, and loss for the country, so how could someone possibly make a comedy out of it? Well, it was made! In this film, you'll follow the story of a playwright desperately trying to get his new comedy play approved by the straight-faced man in charge of censorship. After each denial, he is told to begin a rewrite. It continues with denial after denial and rewrite after rewrite. In a while, the play is slowly getting better and funnier than ever before. This movie is based on a two-man play, making it even more interesting. The major part of the film is set in one room, and the interactions are between these two. It's quite unique.
Suteki na Kanashibari
The court is in session with this hilarious courtroom drama-turned-comedy! The only film on this list starring a woman, defense attorney Hosho Emi has followed her father into the world of law. The only problem is, she's yet to win a single case. With her boss giving her one last show to win a judge over, she takes up the mantle of defending Yabe Goro. Her new client is accused of killing his wife, but his alibi is certainly a strange one: He couldn't have killed her, because the ghost of a samurai was keeping him in an inn that night. And, of course, the samurai ghost, Sarashina Rokubei, plays an integral role. Very similar to western movies such as Ghost, this film is the one that everyone the world over will love.
All in all, Japan and other Asian cultures might have a different sense of humor, but it's definitely the one that can bring about laughs from anyone and everyone. No matter which of these films you watch, you'll certainly enjoy it.