As a love letter to Kyoto and the 110-year-old tram as a movie, "Randen" is a great sample of Japanese contemporary cinema, but also functions as a tour guide to the western part of the city. Let us take things from the beginning though.
"Randen: The Comings and Goings on a Kyoto Tram" is screening at Japan Cuts 2019
The story, which occasionally crosses over the borders to surrealism, revolves around three individuals and subsequently, three love stories. Eisei Hiraoka is a writer for Kamakura who is searching for material to write a book about the supernatural stories connected to the Randen tram. His search however, also brings him back to the past, during a visit to his wife's hometown. Kako Ogura is a girl working for a local catering shop who meets an actor from Tokyo who wants to improve his Kyoto dialect. The two start hanging out reluctantly, and soon a rather quirky relationship is formed. Nanten Kitakado, a high-school girl from Aomori, falls in love with a train nerd who seems to have eyes only for trams, and an even more quirky interaction begins
Takuji Suzuki directs a film that truly emits love for both Kyoto and its tram, a sentiment that also has to do with the fact that he had received help from the city's film students and a number of locals living along the Randen line. You can actually feel this warmth in every image and dialogue in the movie, with the realistic but also picturesque cinematography making a point of highlighting as many hidden corners, trends and folkore of the area as possible. This approach is the base for the three stories and the characterization, who, one could say, are there to help in that regard.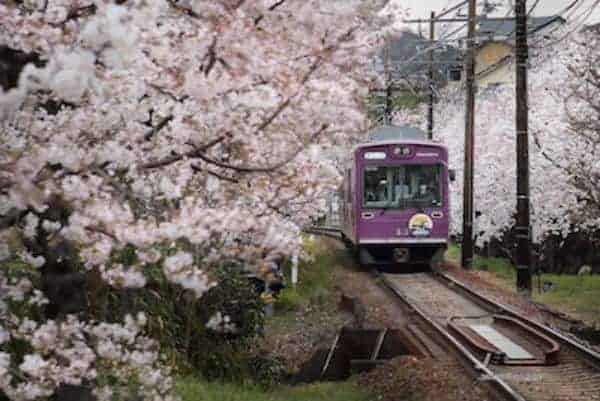 At the same time, "Randen" is also a film about love, with the first arc dealing with love in the past, the second with love now and the third for love in the future (potential love if you prefer). Suzuki directs these arcs is a subtle, realistic but engaging fashion, with just a few splashes of surrealism that appear as the borders between past and present, movie and reality, and dream and fantasy disappear, with the two performers dressed in costumes that appear through the film being the main mediums of the last part. The editing of the film helps much in this approach, although I felt that a bit of a tighter editing, that would trim the film for about 15-20 minutes, would actually help with its overall quality.
And speaking of "negatives" I have to say that "Randen" at times seems a bit too localized, just as if it was solely addressed to locals or at least people who know their way around Osaka. On the other hand, this element does not permeate the narrative, and the sense of nostalgia Suzuki also wants his audience to feel is quite well communicated.
Arata Iura as Hiraoka gives a measured performance, in perfect harmony with the film's aesthetics. Ayaka Onishi as Ogura is adorable as a girl trying to understand and communicate her feelings while fighting her own timid and shy nature. These two are the performances that stand out, but in general, the whole of cast portray their characters fittingly.
"Randen: The Comings and Goings on a Kyoto Tram" is maybe a bit too localized, but in general, a more than worthy sample of contemporary Japanese indie film, and a great "tour guide" for Osaka and its tram.