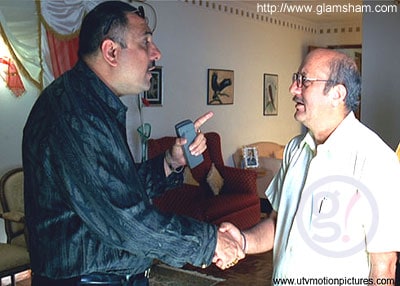 By Saayak Santra
To introduce the movie I want to quote IMDB: "A Delhi based retired middle class man tries half-heartedly to get his land back from a swindling property dealer with the help of his sons and their friends.'' But, this synopsis hardly contains the movie. In my opinion, it is actually a great heist movie in the history of Indian cinema rather than a drama. Though, it is not a conventional good-old-fashioned heist movie as I'll explain later.
Buy This Title
The movie is directed by Dibakar Banerjee and it won the National Award for best film in the year 2007. What is it that makes me watch this movie again and again and again? Here are some of the reasons out of many.
The movie develops around a time when the capital city of India was on the verge of an expansion, due to a huge population boom. A vast and uninhabited region around Delhi was being developed by the Government as residential plots to be sold to civilians. Many working class people bought plots there, with a hope to settle down, after retirement, from the noise and pollution of the capital. Sometimes they even invested their whole life savings for that. In the midst of this event, the land mafias also came to the picture. This is the backdrop around which the story develops.
The script paints a typical middle class Indian family with each and every character being completely recognizable with the real Indian society – A retired service class man (Anupam Kher), who still thinks that the best occupation for his son in India is a government job. The elder son who has graduated from IIT Delhi. He is a software engineer and wants to settle in the US. The parents who think that it is a shame to live like a second class citizen outside India (People from Delhi are somewhat megalomaniac, but harmlessly). The son is another typical character in the present Indian society where every second student wants to be an engineer and make it big, and ultimately realises he does not actually know what he wants from his life. The script here perfectly guides the dilemma that resides in every character of this movie. A mother who is a homemaker by choice. She cooks meal for everyone in the family and tries to maintain peace in the household by calming down people during disputes. A younger good-for-nothing brother who has no interest in studies and wants to open a property consulting company. His father is not happy with him and always keeps on scolding him for not doing some job in order to make money and simply wastes his time. A loving daughter with a modern outlook who wants to rub shoulders with the male members of the family.
The plot of the movie describes a situation in which a land mafia leader (Khurana) takes hold of the land of the Khosla family wrongly. Khurana can do anything with the help of his power and money – Buy the police, make the fake property papers, make the local police dance to his tunes.
The plot of the movie derives humor from real life situations. A lot of good comedy movies have been made in India, but this one stands out due to its intelligent humor.
The film features great performances by Anupam Kher, Vinay Pathak, Ranvir Shorey, Parvin Dabas, Kiran Juneja, Boman Irani, Tara Sharma,etc. Except Anupam Kher, a veteran, these are lesser known actors of the Indian film industry. Almost all the actors portrayed in this film are to some extent from stage theatre background. The director uses that trait properly. Actors did a very good job portraying the story, alongside playing their characters. Look out for the little roles in this movie. They are like the icing upon cake.
How this simple bland elements mix and turn into an almost heist movie, that part I won't disclose. It is a must watch, if anyone is looking for bits and pieces of a normal Indian life and their necessary abnormalities.
'Ghosla' means nest. A place where love has always been there for the dwellers. That term is slightly different from 'House'. In India there is a saying 'without love, a house is just a house, not a nest.' A man can go to his farthest extent to contain the love he thinks he is entitled to. Watch the movie to find that extent.