Yet another film with a history of its own, director Lee Man-hee's "A Day Off" was filmed in October and November, 1968 and completed in the same year. However, the film, which depicted a bleak, depressing reality of life in a Seoul caught between changes, ran afoul with the censor authorities upon submission. The censors insisted that a sentence be added to the narration in the film's final scene, one which completely changed the story and the plight of the character that was intended. Firebrand producer Jeon Ok-suk, who greenlit the project without getting the script approved with the censors, director Lee Man-hee and his frequent collaborator, screenwriter Baek Gyeol, all strongly refused the nonsensical addition. This resulted in the film being shelved without screening and it ended up on the shelves of the Korean Film Archive, forgotten and ultimately lost even to history books, to the point that it wasn't even mentioned in Lee Man-hee's filmography anywhere. It wasn't until 2005 that the original reels, still intact, were found in the Korean Film Archive and the film finally saw the day of light and audiences finally got to see the film. What was is about the film that had the crew and the censors clash to the point that they'd both rather see the film shelved than have anything but their own version of it screened?
"A Day Off" is screening at London Korean Film Festival
On a lazy autumnal Sunday morning, a destitute but smartly dressed Huh-wook is on his way somewhere. So broke is this man that he even resorts to conning the tobacco seller out of a packet of cigarettes and his taxi driver out of the taxi fare. As it turns out, he is on his way to meet Ji-yeon, his girlfriend, who is waiting outside a coffee shop for him, herself equally broke to the point that she doesn't have money to go inside the shop. The two lovers go for a walk on Namsan mountain, where Huh-woo finds out Ji-yeon is pregnant and given the financial circumstances, has decided to have an abortion today. The penniless Huh-wook resolves to borrow enough money for the operation and goes about banging on his friends' doors while Ji-yeon waits on Namsan for his return.
Later in the film, Huh-wook raises a toast with a woman he meets in a bar. "To a gloomy Sunday", he says, to which she raises her own glass and replies, "Gloomy people". This small exchange sums up the atmosphere and characters of the film perfectly. Few directors understood human beings as well as Lee Man-hee and there were fewer still who could tell the story of the fractured Korean mind in those testing times as he could. "A Day Off" very accurately presents the bleak, gloomy existence of society at the time, their lives a series of misfortunes and hardships that never seem to resolve itself before more come along their way, quite similar to Seoul of the time, which itself seemed to be stuck in transition.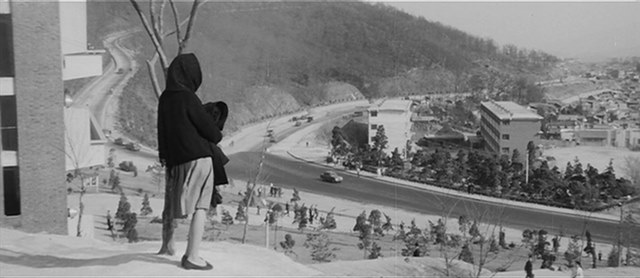 The ever-changing landscape promises a new life to the characters but it never seems to come along, just like the several building sites that've sprouted up along the city but remain incomplete, making Seoul in the autumn look like a depressing graveyard of buildings and dreams. This is further enhanced by the fantastic cinematography of Lee Seok-gi, another Lee Man-hee regular, which captures the urban landscape of Seoul, a depressing space without exit, as well as the autumnal, windy beauty of Namsan mountain beautifully. Even the conversation that the two lovers engage in seems banal at first glance but is similarly gloomy, only highlighting the hopelessness of their situation.
As the film gets into its now legendary second half, it completely shifts genres, jolting the audience as it does so. What was until that point a film that was seeped in sorrowful realism now resembles something of a horror or a thriller film. This is also reflected in the cinematography, which until then was filled with bleak autumnal grey hues and stunning wide-angle landscape shots, suddenly resembles a film noir look with deep blacks dominating the screen. Even Jeon Jung-geun's music begins to resemble the score for a horror or thriller movie, after having been a slow, melancholy companion to the urban cinematography thus far. This part of the film brings many questions to the viewers minds about the reality within the character's mind, which are impossible to talk about without getting into spoiler territory. The film, fascinatingly and frustratingly, offers no answers.
The casting of superstar Shin Seong-il, an actor who defines '60s Korean cinema, as Huh-wook is inspired. Though less appreciated for his acting abilities than for his striking good looks, his performanceg here is a lot different to his other, more popular roles. His face carries a sense of sorrow and dejection even in instances where he is not supposed to be trying very hard to bring Huh-wook's emotions across, making Huh-wook as pitiable as he is pathetic, particularly in the film's latter half. The beauty of Jeon Ji-yeon only furthers the grimness of Ji-yeon's situation, a character that pretends to be strong but whose vulnerability breaks through as she waits for Huh-wook to return in the unforgiving stormy winds of Namsan and later holds on to his hands tightly in the hospital's waiting room. The final montage of scenes, narrated by Huh-wook as he remembers both happy and sad moments spent with Ji-yeon, is truly heartbreaking.
Since its belated release, "A Day Off" has gone on to achieve much critical acclaim, often rightly listed in the top 100 films of Korean cinema by critics and audiences. It acts as an ideal window into the sordid life in Korea of the time. Although he went on the make more films with more commercial sensibilities and gather much posthumous acclaim with his final film "The Road to Sampo", "A Day Off" remains one of his best works and possibly the last film of his which represents the more daring ideas and executions that his early works are well-known for. Several of his works still remain "lost" today and one can only hope that somewhere, there is a shelf just like the one "A Day Off" sat on for ages where these films are just awaiting to be found for a brand new generation.