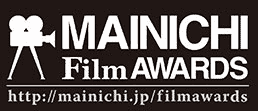 The awards were first introduced in 1946 by the Mainichi Shinbun (毎日新聞) newspaper, which is the oldest daily Japanese one, since it has been on circulation since 1872. Nowadays, it is one of the three largest in the country, and it is noteworthy that two of its general directors were elected Prime Ministers.
The first winners were:
Best Film: Aru yo no tonosama (Teinosuke Kinugasa)
Best Firector: Tadashi Imai (Minshu no teki)
Best Script: Osone ke no ashita (Eijiro Hisaita)
Best Actor: Eitaro Ozawa (Osone ke no ashita)
Best Soundtrack: Minshu no teki (Fumio Hayasaka)
Since 1962, a year after the death of Noburo Ofuji, one of the pioneers of Japanese anime, a new award was introduced in his name, for the best anime of the season. The first winner was Osamu Tezuka, with "Story of a Certain Street Corner."With the rise of the anime industry during the 80's, the major studios started dominating the award, against the small independent ones, who were those the award was initially created for. To address the issue, the awards' commitee presented the Best Animated Film award for the major productions and the Ofuji focused once more to the independent ones. The first winner of the new award was Hayao Miyzaki's "Kiki's Delivery Service."
In 1986, a new award was introduces to honor Τakaka Kinuyo, ine of the most important actresses of the country and the second one to direct a film, which is always presented to a woman, for her efforts in the field.
The award ceremony was held on 20 February 2016 at the Muza Kawasaki Symphony Hall and the winners were:
Here are the 70th Mainichi Film Award Winners
Award of Excellence in Japanese Cinema: Journey to the Shore (Kiyoshi Kurosawa)
Best Foreign Film: Birdman (Alejandro Inaritu)
Best Director: Shinya Tsukamoto (Fires on the Plain)
Best Screenplay: Masato Harada (Kakekomi)
Best Actor: Shinya Tsukamoto (Fires on the Plain)
Best Actress: Haruka Ayase (Our Little Sister)
Best Supporting Actor: Kenichi Kato (Living With My Mother)
Best Supporting Actress: Masami Nagasawa (Our Little Sister)
Sponichi Grand Prize for New Actor: Yojiro Noda (Pieta in the Toilet ), Ryoko Fujino (Solomon's Perjury)
The Tanaka Kinuyo Award: Kaori Momoi
Best Cinematography: Jinichi Fujisawa (Solomon's Perjury)
Best Art Direction: Tetsuo Harada (Japan's Longest Day)
Best Music: Ryuichi Sakamoto (Living with My Mother)
Best Sound Recording: Takeshi Ogawa (Three Stories of  Love)
Best Documentary: Okinawa: Urizun no ame (John Junkerman)
Best Animated Film: Miss Hokusai (Keiichi Hara)
The Ofuji Noburo Award: Suijun Genten (Ryo Orikasa)
Tsutaya Fan Award, Best Japanese Film: The Curtain Rises (Katsuyuki Motohiro)
Tsutaya Fan Award, Best Foreign Film: Mission: Impossible – Rogue Nation (Christopher McQuarrie)
Special Award: Kazunori Kushiketa (Cinemarine manager), Shinobu Hashimoto (Screenwriter)   Kawasaki Cinema Award: Ogawacho Serenade (Keinosuke Hara)