London, UK 8th March 2018 – Fear not citizens, because MY HERO ACADEMIA SEASON TWO, PART ONE is here! Enroll in a breathtaking new season of the action-packed anime hit when the new semester begins on April 2, with the series available on DVD and Blu-ray™ courtesy of Sony Pictures Home Entertainment. Featuring the first 12 episodes, dive deeper into FunimationNow's most simulcast show of 2017 and the world of heroes as our trainees face a trial more exciting and challenging than any exam – the U.A. High Sports Festival!
Based on Kōhei Horikoshi's New York Times best-selling manga from Weekly Shonen Jump, the iconic home of Dragon Ball Z and Naruto, MY HERO ACADEMIA is a coming of age story against the backdrop of a world where superheroes are not only real, but a viable profession. Izuku "Deku" Midoriya is one of the few born without a "quirk" power, but that won't stop him from enrolling in the prestigious U.A. High School  to chase his dream of becoming the next symbol of peace, like his idol and mentor, All Might.
Kenji Nagasaki (Gundam Build Fighters) serves as director at the beloved BONES (Fullmetal Alchemist, Soul Eater), with Yoshihiko Umakoshi (Berserk) as Chief Animation Director and Character Designer. The series score is composed by Yuuki Hayashi (One Piece Film: Gold).
Daiki Yamashita (Dimension W) stars in the series alongside Kenta Miyake (Assassination Classroom), Nobuhiko Okamoto (Blue Exorcist) and Ayane Sakura (Love Live! School idol project). Justin Briner (Seraph of the End: Vampire Reign) leads the English language dub with Christopher R. Sabat (Fullmetal Alchemist), Clifford Chapin (Attack On Titan) and Luci Christian (One Piece).
Special Features:
DVD:
All 12 Episodes
Episode 13.5  "Hero Notebook"
Blu-ray™:
All 12 Episodes
Episode 13.5 "Hero Notebook"
11 Inside the Episodes
Anime Expo 2017: Interview with Yoshihiko Umakoshi
Promo videos
Textless opening and closing songs.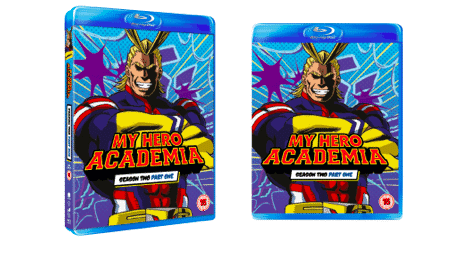 Available to pre-order now on Zavvi:
https://www.zavvi.com/blu-ray/my-hero-academia-season-02-part-1-funimation/11702453.html
https://www.zavvi.com/dvd/my-hero-academia-season-02-part-1-funimation/11702452.html
Synopsis:
Class 1-A made a name for themselves after facing The League of Villains, but an even greater challenge is about to begin. These young heroes will now fight students from other classes in the world's biggest Quirk competition-the U.A. sports festival! With dreams at stake and friends turning to adversaries, Deku will give everything he's got in his grand debut as the world's next symbol of peace.
MY HERO ACADEMIA SEASON TWO PART ONE contains 12 episodes with an approximate run time of 25 minutes each and is rated 15.