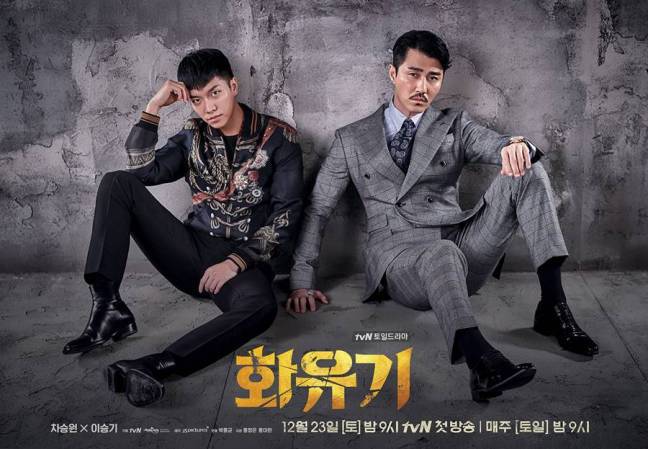 1. The Guest (Kim Hong-sun, South Korea: 2018)
With its triangle of investigators, a Catholic Priest (Yoon Hwa Pyung), a Shaman (Choi Yoon) and a Police Detective (Kang Kil Yeong), "The Guest" can be best thought of as a loose spin-off of Na's "The Wailing" (2015) even though the answers seem clearer cut in the former than the later. Like all good Gothic texts, the crisis in the present can be traced back to a trauma in the past at which the paths of the three intersect. As BTS tell us in "DNA" 'this is not a coincidence' (2017). In the present, an outbreak of violent crimes for no apparent reason bring the three together again as they search for the demon behind the outbreak whose capture would resolve their traumatic pasts. Much darker in its approach than many horror themed kdramas, "The Guest"'s tight scripting, clever casting and cinematography mark it out as a must see. "The Guest" has just finished with the last episode screened on 1st November 2018.
2. The Ghost Detective (Lee Jae-hoon, South Korea 2018)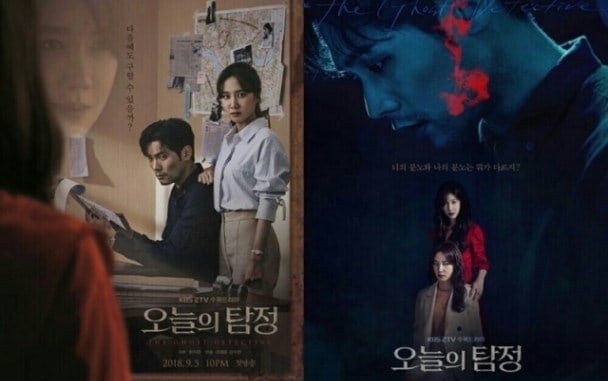 "The Ghost Detective" is an ensemble piece with a lighter approach to its subject material than "The Guest".  The Ghost Detective is Lee Da II (Daniel Choi), a private detective – who runs an agency with the much put-upon Han Sang-seop (Kim Won-hae) – who "dies" during an investigation into the mysterious disappearances of children at a kindergarten. Once resurrected, his ghost teams up with the beautiful and persistent Jung Yeo-wool (Park Eun-bin). Yeo-wool, who offers to help Dal Il and Sang-seop with their investigation, in order to find out why her sister killed herself, and who also fulfills the typical role of romantic diversion for the protagonist. The antagonist, Sunwoo Hye (Lee Ji-ah), is a beautiful but profoundly damaged young woman, trapped in the mind of an abused child, who possesses the ability to control other's actions and is both dangerous and deadly. In half an hour episodes, "The Ghost Detective" is entertaining television with enough mystery to keep you watching, and a small romantic subplot for those for whom horror on its own is insufficient.  Available: @Viki
3. Erased (Ten Shimoyama, Japan: 2017)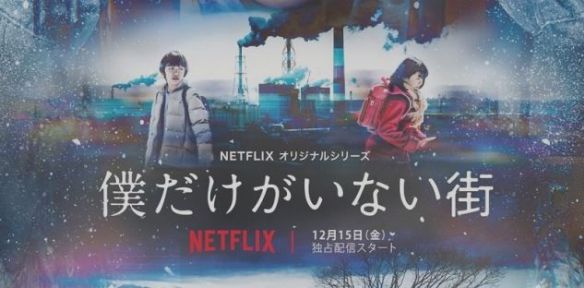 "Erased" is based upon a manga by Kei Sanbe (2012) which was published in "Young Ace". It has been adapted across a number of media forms including an anime TV series (2015), live action film (2016) and finally as a Netflix original TV series in 2017. The series opens in a present in which Satoru Fujinuma (Yuki Furukawa), an aspiring manga writer who ekes out a living as a delivery driver. In the middle of one such delivery, Satoru finds himself flung back to the past and once again having to live through a series of strange disappearances and murders of young children, whose killer is never discovered. In order to return to the present, Satoru needs to resolve the trauma of the past even if by so doing, he has to risk his own life. "Erased" tackles the sensitive subject matter without sensationalizing or exploiting it. The performances are nuanced, and the cinematography is exquisite with splashes of red contaminating the winter landscape, highlighting the presence of danger and death which both literally and metaphorically stains the clean, pure landscape of childhood. Sadly, "Erased" is one of the few Japanese dramas available in the UK on a streaming platform (@Netflix) and I would hope that we would see better access to Japanese dramas across legal streaming platforms in future. Available @Netflix.
4. A Korean Odyssey (Park Hong-Kyun, Kim Jung-Hyun, Kim Byung-Soo, South Korea, 2017-2018)
"A Korean Odyssey", or "Hwayugi", is based upon the classic 16th century Chinese novel "Journey to the West" (Wu Cheng'en) which is perhaps one of the most adapted texts across East Asia and media platforms. This includes "Monkey" (Japan, 1978-1980), my introduction to Chinese mythological tales, filtered through Japan, and badly dubbed for the US release. In this adaptation, Lee Seung-gi is Son Oh-gong (the Monkey King) who, due to hubris, had been exiled and confined in the human world until he manages to deceive Jin Seon-mi (Oh Yeon-seo), who is a child at the time, to free him. In the present, Oh-gong is living with Woo Hwi-chul (the Bull Demon King), who is the CEO of one of the top South Korean entertainment companies and is trying to collect points by doing good deeds in order to be reunited with his past love. As penance for having deceived Seon-mi in the past, Oh-gong finds himself forced to protect her and eventually falls in love with her. But their love seems to be doomed as one or the other needs to be sacrificed in order to save the world as is wont to happen in fantasies about immortals and superheroes. The series also stars popular idols, including Yoon BoRa of "Sistar", Lee Hong-ki of "FT Island" and "One", all of whom acquit themselves well against the more experienced cast members. "A Korean Odyssey" is an entertaining TV series and is notable for having diverse roles for actresses outside of being relegated to mere love objects. My favourite is Lee Se-young who, as the aspiring Idol-cum-zombie Bong-soon, steals all the scenes she is in imbuing them with just enough pathos to make her into a sympathetic figure. Available @Netflix.
5. Black (Kim Hong-sun, South Korea: 2017)
"Black" is one of quite a few South Korean horror themed shows that has a Grim Reaper as a protagonist. Here, Reaper #44 finds himself inhabiting the body of Han Moo-gang (Song Seung-heon), a Police Detective, when he is sent into the world of the living to retrieve his partner who fails to return after a reaping. Coexisting with humans is difficult for Reaper #44, that is, until he falls in love with Kang Ha-ram (Go Ara) who can foresee the death of others and in the past was in love with Moo-gang's brother, Joon. "Black" is a gothic story of doppelgangers and mistaken/false identities in which the traumatic past haunts the present connecting the fates of Moo-gang, Joon, Ha-ram and #Reaper 44 together. At the centre of this past is the death of Joon, and a series of murders that seem to be related to it. These need to be resolved for Reaper #44 to ensure that Ha-ram is not the next victim even if their differential statuses means that they cannot be together. While immortal men protecting mortal women is a well-worn cliché in kdramas, "Black" is entertaining enough to mitigate against this. Available @Netflix.