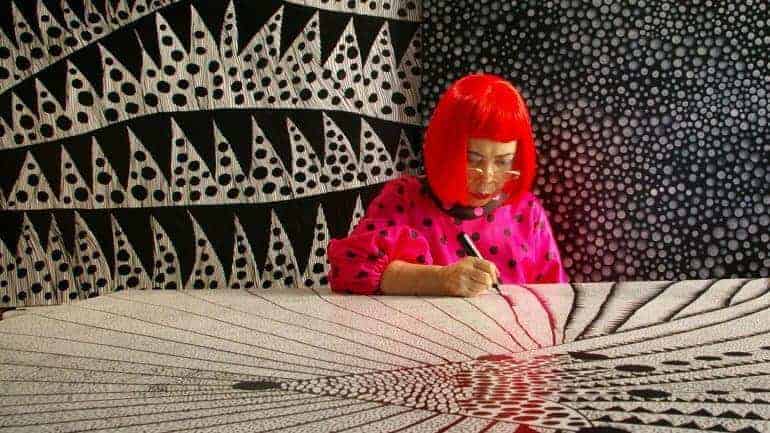 I have to admit my knowledge of the modern art world is very limited, and therefore I did not know who Yayoi Kusama is. At the end of this documentary, I have truly regretted my lack of knowledge, because Kusama is not only one of the greatest living artists, but also an extremely interesting individual.
Kusama Infinity screened at the 8th Annual San Diego Asian Film Festival Spring Showcase
The film explores Yayoi Kusama's journey from the 30s in Japan, and the turbulent relationship with her family and particularly her mother regarding her wish to become an artist and not to get married, to her move to America after sending fan mail across the sea to Georgia O'Keefe, the meager fame she enjoyed in the 60's (where she rivaled Andy Warhol for press attention), her activist work during the war in Vietnam which deemed her a persona-non-grata in her hometown, and her final achievement of international fame within the art world.
Heather Lenz directs a very condensed documentary, as she has managed to include interviews and writings from art collectors, gallery owners, museum curators, art historians and friends, along with passages from Kusama's autobiography, and footage from a recent interview with her. Along with a number of photos (which include her and O'Keefe's works) and various videos, Lenz paints a very thorough portrait of an artist who had to struggle against prejudice, racism, tradition, her family, and finally, her own mind, as her psychosis has led her to live in a mental institution in Japan for the last 30 years, despite the fact that, currently, she is the top selling, living female artist in the world, and her exhibitions are always sold out.
As we learn of her life and witness the labyrinths made of dots and nets that form the basis of her art, we are also introduced to a very interesting persona, who managed to take all the obstacles she had to face in her life and make them into art, including her psychosis. As Kusama says, "No matter how much I suffer from my art, I have no regrets".
The production values of the documentary are also of the highest level. Hart Perry, along with Hide Itaya, Ken Kobland, and Shinpei Takeda have done an excellent job in the cinematography department, in a film that could be easily presented with no words, just as a video, due to the wonderful depiction of both Kusama, and her works. Keira Ideno and Shinpei Takeda's editing manage to join the many aspects of the documentary together with distinct artistry, allowing the story to flow smoothly, and in very entertaining fashion.
"Kusama Infinity" is a great documentary that manages to highlight every aspect of a great individual with gusto and artistry