Featuring such a cast (Koji Yakusho, Takako Matsu, Koichi Sato and Kumiko Aso among others), being reminiscent of the Hollywood screwball comedies of the 1930s and 1940s, and particularly the 1932 film "Grand Hotel" and having a New Year's feel, "Uchoten Hotel" had all the prerequisites of becoming a commercially successful film. Eventually that is exactly what it did, becoming the third highest grossing one of 2006 in Japan. Furthermore, it was nominated for 11 Japanese Academy awards, although, almost ironically, did not win a single one. Let us see what it is about though.
Buy

This

Title
The story revolves around a number of characters, whose lives intermingle in a luxury hotel two hours before New Year's Eve. Shindo, who used to work in the theatre, is now a head accommodation manager, but tries to hide the fact when his ex-wife unexpectedly arrives in the hotel. Her current husband, is in the hotel to receive an award from a deer fertility research organization, but is getting (somewhat) blackmailed by Yoko, a call girl he had sex with in the past. Yoko is a persona non grata in the hotel, and all the stuff tries to kick her out, but eventually manages to attach herself to senator Mutoda, who is hiding from the media in the hotel. Takemoto is a chambermaid, who, for not very clear reasons, assumes the identity of the mistress of a wealthy elderly man, whose son has arrived in the hotel to buy her out of their lives. Kenji is a bellboy with music aspirations that has decided to give up on music. Zenbu Tokugawa is a veteran enka star who is suicidal when he is not performing and soon gets acquainted to Kenji.
Koki Mitani's trademark style involves moving the camera around as opposed to cutting, in a tactic that derives from his work in stage plays. This sense, that you are watching a stage play, permeates the film, despite the many different settings provided by the different rooms and the large spaces inside the hotel. Through this approach, and the various, mostly comic-driven episodes, Mitani succeeds in combining comedy with social commentary, which, at times, even becomes harsh underneath its humoristic approach. In that fashion, the film deals with corruption, love in various forms, pursuing your dreams, show business, shame, but most off all, the purpose of the hotelier, who according to Shindo, is to serve at all times.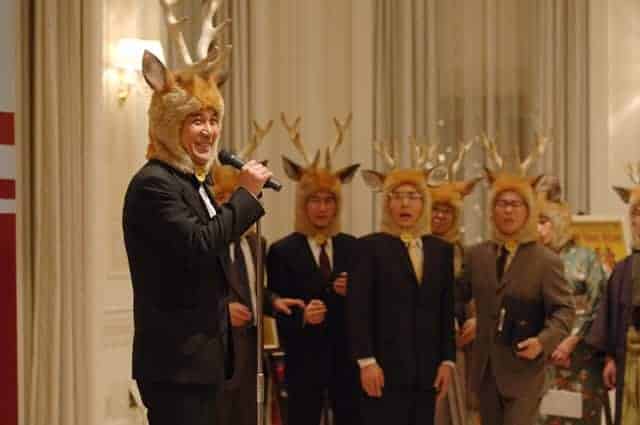 Evidently, the narrative implements an episodic approach and not all episodes are so interesting; however, the outcome is definitely delightful, as one cannot but like the characters in the film, and particularly the hotel employees. Koji Yakusho as Shindo, Takako Matsu as Hana, and Shingo Katori as Kenji are all quite good in their dramatic/comedic approach, with the film's entertainment owing much to their performance. From the rest, Koichi Sato as the disgraced politician Mutoda and Ryoko Shinohara as the call girl are the ones that mostly stay in memory.
Regarding the comedy in the film, Mitani uses a number of "tricks" since the jokes stretch from gag (the huge ears of father and son will definitely make the spectator laugh) and wordplays, to intelligent and underlying, in a tactic that offers much entertainment and actually carries the film for its 136 minutes.
Another great aspect of the film is Yohei Taneda's production design, who has "exploited" the hotel setting as much as possible in order to present almost a setting per character. Soichi Ueno's editing is also excellent, with him combining the different characters, episodes and setting in a way that lets the film flow in harmony, and with a rather fast pace that suits its overall aesthetics.
"Uchoten Hotel" is easy to watch, very entertaining, and in general a delightful film that definitely deserves a look.