Makoto is living a happy life, he enjoys his job, and is soon to be married. This all gets disrupted when a group of cupids set his heart towards his high-school sweetheart Machiko, whom he learns still has feelings for him, despite having moved on in her life, getting married and having a child.
After hearing the news of his ex still liking him, Makoto begins to distance himself from his wife, choosing to spend most of his time with his two friends, Manabu and Masaaki. Whether they are hiking or out on the town, the conversation always seems to focus on love, both past and present. Getting caught up in these conversations, seems to pique Makoto's interest and he wonders more about what might have been. As a result, he begins to call her, show up to her dance performance and, in the most extreme case, breaking into her house to steal her old diary.
By the end of the film, Makoto needs to choose if he wants to still get married, pursue Machiko or just give up on both and choose to go alone.
"Sorry Baby" screened at Japan Filmfest Hamburg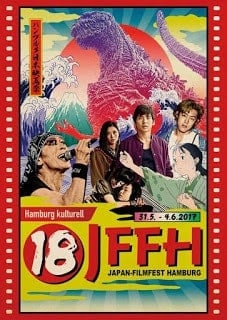 Tamura Senichi works well with the limited script, keeping locations, primarily to smaller intimate spaces that really feel like they have been lived in by the characters. The film is very clean and bright, complimenting the general feel of the movie
The bonds between the characters is what really drives "Sorry Baby". In that fashion, all the interactions feel authentic, such as his friendship with Manabu and Masaaki as they playfully mock each other or talk fondly of the past. Makoto is such an optimistic person, and even when faced with this important decision, he tends to sport a smile and laugh it off. Consequently, the rest of the cast plays their roles in a very upbeat fashion to keep up with his enthusiasm. There is definitely a feeling of intimacy with the entire group giving the feeling that the cast could have known each other prior to the production of the film.
"Sorry Baby" succeeds and stands out in a couple of ways. It creates strong character bonds that feel familiar to those we might share with our own friends and it also utilizes some slight surreal imagery to add some humor and make for some memorable scenes. The one where Machiko is clutching, single handed, onto Makoto, as he tries to keep pace with his friends walking along the streets, is a distinct sample.
The fault within the movie may come down more to personal tastes as I found the constant optimistic vibe to be a bit tiresome, resulting in a lack of character depth. We only get to scratch the surface of who Makoto is. For me, tackling the issue of staying in a marriage should bring more internal conflict, manifesting in some form of suffering. At his worst, Makoto seems slightly anxious. Consequently, I felt this betrayed the seriousness of the subject matter.
If you are just looking for a lighthearted comedy "Sorry Baby" should hit the mark.