Kintaro Yajima (Katsunori Takahashi) once was the leader of an infamous biker gang, but as he became a father, he exchanged his bike for a business suit and began working for Yamato Construction. Behind the scenes, a politician along with a rival company schemes to destroy Kinatro's employer by taking away or canceling all government contracts the firm has or competes with alongside other companies. During this time, Kintaro's boss sends his employee to work with Igo (Tsutomu Yamazaki), a former friend of Yamato and manager of the company, who over the years has been more fond of gambling and/or drinking than taking care of business affairs.
While Kintaro has trouble getting through to Igo, Yamato loses more contracts, which jeopardizes the company as a whole along with the livelihood of its employees. Brave and confident in his abilities, Kintaro tries to fight what he sees as an act of injustice by legal means, but is forced to return to his former gang for further help, especially when the fight becomes personal to him.
Buy

This

Title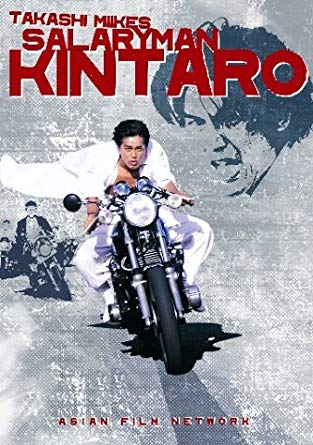 Based on a popular manga by Hitoshi Motomiya "Salaryman Kintaro", or "White-Collar Worker Kintaro", was meant as a bridge between two seasons of the TV series about the character. Tom Mes puts it best when comparing the central character to Popeye given he is basically an everyday-superhero standing for courage and perseverance, two virtues Kintaro frequently talks about with his son Ryuta. The manga, as well as the series and the live-action film, is addressed at boys of this specific age, teaching them a certain moral principle while also serving as light entertainment containing fight scenes and the occasional personal drama.
In the case of Miike's film, this description is the core of his narrative and the characters. Even though you may not know the manga, the idea of Kintaro as Popeye or Superman is basically all you have to know about him, and it is all you will take away after the roughly 109 minutes of running time. Starting from the very first sequence showing Kinataro participating in a father-son race with Ryuta and then – after the two have won, of course – running towards the company building while changing into his salaryman-uniform to attend an important business meeting. He only stops to defend a helpless man who is beaten by a local gang – and you bet he also wins that fight.
Given the kind of contract work "Salaryman Kintaro" seems to be, this sequence sums up the kind of aesthetics and storytelling you will receive in the film. In the same year, Miike would make "Dead or Alive" and "Ley Lines", "Salaryman Kintaro" is a very generic film who message is as one-dimensional as the character it shows. There is nor irony, not hidden agenda, and, to make matters even worse, there is no hint of this being a film from the same director who made the aforementioned titles. Ironically, "Salaryman Kintaro" feels like a salary, a paycheck to make something else and, to be honest, something far better than this dull entry into his body of work.