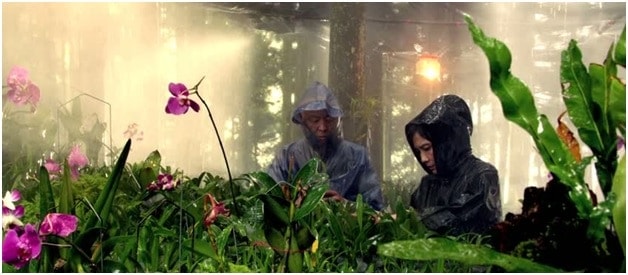 Starring Jimmy Wang Yu, best known for his 1967 Shaw Brothers movie, "One-Armed Swordsman", "Soul" netted him a Best Actor Award at the 15th Taipei Film Festival in 2013.
Buy

This

Title
The story begins with Ah Chuan (Joseph Chang), a chef who works in a Japanese restaurant and suffers from fainting spells and blackouts. Unable to work anymore, he is sent home to recover in the rural mountain home of his father, Wang (Jimmy Wang Yu), who lives alone and grows orchids for a living. During his stay, Ah Chuan hardly talks, seems to be possessed and behaves as if being totally lost. That's when strange, violent things begin to happen, including a murder. Ah Chuan tells his father that he sees this empty body, so he just settles in and the real Ah Chuan is gone. Wang is willing to protect and look after him at any cost, thus begins the bonding of father and son. From here on, the movie also moves into the dark and violent world of Ah Chuan, a shell of a man who behaves like a mentally ill and whose soul seems to be elsewhere.
Yes, there are gruesome murders and plenty of blood to match Jimmy's old Shaw Brothers movies, but not the sword-fighting kind of action. After all, Jimmy Wang Yu had a stroke a couple of years before making this movie so he is moving rather slowly, which, in fact, suits the overall pacing of the movie. Although there are violent and bloody scenes throughout, this in not a slasher movie, as they are presented in almost an art house fashion and are quite moody, as they intercut with outbursts of beautiful, slow motion images.
Jimmy Wang Yu plays his part as Ah Chuan's father in a slow but natural way which suits his age and the mood of the movie. Joseph Chang is equally good as his son, as he manages to switch moods with ease.
There are also some interesting, weird and off-key characters like the chief inspector and a police officer, both of which provide some light humor.
Director Chung Mong Hong makes great use of the misty, rural mountain setting and the ambient music to create an eerie and unsettling atmosphere. He uses quite a lot of colorful landscape images and some slow motion shots of insects, flowers and clouds to intercut with the otherwise bloody violent acts. This quick cut technique actually helps to create some tension and unsettled mood to an otherwise slow moving movie.
The rural mountain settings are beautifully captured by cinematographer Nagao Nakashima, who is able to combine colours and still images to turn the misty mountain setting into something both surreal and unsettling. The simple use of violin and guitar in some scenes are also effective to convey tension and moods.
Overall, "Soul" is a good psychological thriller and a very well put together, slow burn, character driven family drama. It will probably divide viewers because of the movie's art house feel, but it's also good to see veteran actor Jimmy Wang Yu on screen after his stroke and doing a great job.