Director Herman Yau and star Anthony Wong first collaborated in the legendary exploitation movies "The Untold Story" (1993) and "Ebola Syndrome" (1996). Now they are back in "The Sleep Curse" (2017) to bring us another gory, supernatural thriller that touches on human experiments, the evil and victims of war.
Buy This Title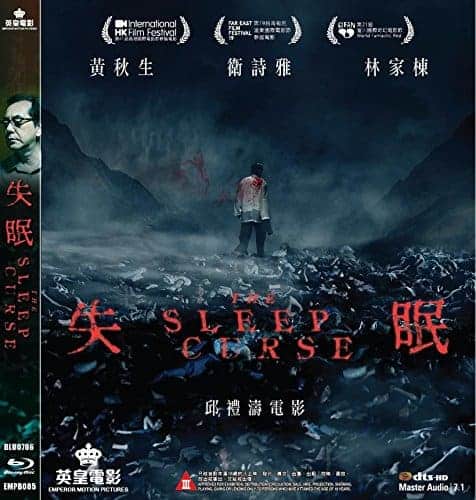 "The Sleep Curse" starts off with some grainy video of a Malaysian Chinese father who suffers from insomnia, which eventually leads to extremely violent and criminal acts. Next up, we are introduced to Dr. Lam (Anthony Wong) a professor, who does research on sleep disorders. It soon turns out that his supervisors are not totally pleased with his experiments and research, so they cut his funding.
Consequently, his ex-girlfriend, Monique (Jojo Goh) turns up one day asking for his help because her family is suffering from insomnia. Since she also comes with a good size cheque, he is more than pleased to help, study her and therefore continues his work.
From here the story jumps back to World War II Hong Kong during the Japanese occupation and his early childhood. His cowardly father, Lam Sing, also played by Anthony Wong, works for the Japs. While able to save one of the twin girls from becoming a comfort woman for them, the other twin who suffers from repeated rapes ends up putting a sleeping curse on him before dying.
Back to the main plot of the movie, Dr. Lam continues his research trying to cure Monique's sleep disorder, but his father's sleep curse seems to come back and haunt him, which leads to a bloody end for both him and his subject.
In this brutal, merciless Japanese occupation world of the subplot, we also get to know a Chinese traitor, collaborator Chow Fook (Gordon Lam Ka Tung) who works for the Japs and kidnaps young girls from Chinese families and turns them into comfort women. Gordon does a great job here being mean, cruel and very cold blooded.
As usual, Anthony Wong is great with this kind of movie, able to keep calm and be equally violent, intense the next and playing both roles of father and son with ease. Michelle Wai also plays double roles here as the twin sisters, Man Ching and Man Woon. She's even better as the suffering victim and dying sister seeking revenge with her curses.
Although this movie has all the trademark of director Herman Yau, meaning gore, horror and splattering blood, he also touches on the theme of human suffering, as seen in the Japanese treatment of comfort women during the war, the suppression of women and suffering victims of war in general.
If you gore hounds are looking for a straight out action packed, bloody slasher treat, you could be disappointed. Nevertheless, the beginning and the end of "The Sleep Curse" are really well put together, whereas the middle subplot is rather slow. But Herman saves all the good bloody bits like decapitation, mutilation and even cannibalism till the very end and he succeeds with flying colors. This gory slasher actually has some historical meaning added to the mix that makes you think and take note.