Conceived by Shôhei Imamura, Kazuo Hara's audacious, deeply unsettling documentary feature follows Kenzo Okuzaki, a 62-year-old WW2 veteran who has fought tirelessly and often violently to bring to justice Japan's Emperor Hirohito and the Army commanders whom he holds responsible for the countless deaths and other atrocities involving Japanese soldiers during the war in the Pacific.
Buy

This

Title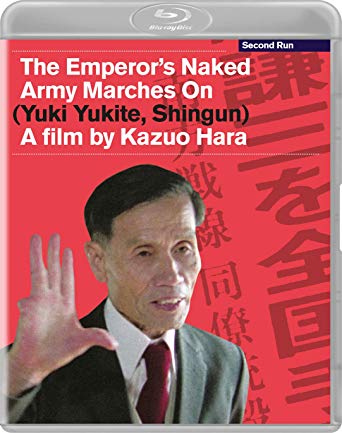 Harrowing, unflinching and extraordinarily powerful, Hara's film pushes against the proprieties of Japanese society (the film remains unreleased in its home country), and forces us to question the relationship between documentary filmmaker and protagonist.
SPECIAL FEATURES:
• A new filmed interview with Kazuo Hara, shot exclusively for this release.
• Kazuo Hara Masterclass: the filmmaker in conversation at the 2018 London Open City Documentary Festival event.
• 20-page booklet featuring writing by film historians Tony Rayns, Jason Wood and Abé Mark Nornes.
• New and improved English subtitle translation
• Region free Blu-ray and DVD.