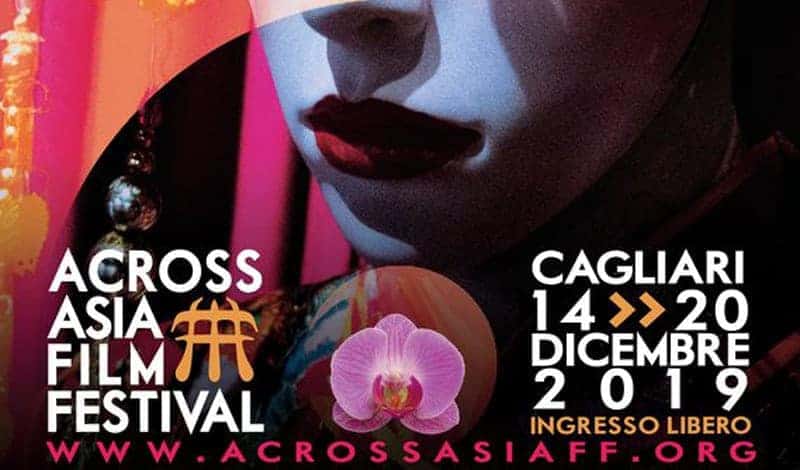 Across Asia Film Festival (AAFF) in Cagliari, in the beautiful Italian island of Sardinia, is back on the 14th of December with a Programme focused mainly on the Philippines and Taiwan, including collateral events, guests and some interesting gems, like a restored edition of the classic Lino Brocka's "Manila in the Claws of Light", a Masterclass with directors Shireen Seno and John Torres and the Italian Premiere of "The Kalampag Tracking Agency" an ongoing curatorial initiative between Shireen Seno of Los Otros and Merv Espina of Generation Loss.
Across Asia Film Festival is focused on most interesting languages of recent cinematographic production from Asia, with the goal of promoting and developing cultural exchanges between Italian and foreigners communities. Stefano Galanti and Maria Paola Zedda are the creators and the artistic directors of the event.
The Festival will kick off with "The Night of the Living Soundtracks", a rare opportunity to see the 1984 U.R.S.S. animation "Vanya and the Crocodile" (by Nataliya Dabizha) and Yasujirō Ozu's 1932 silent comedy "I was born but", with a live soundtrack by – respectively – Andrea Deidda, Federico Leonardi & Alberto Obino (for "Vania") and Okapi (for "I was born") in the Monumental Church of Santa Chiara.
Here is the full Programme:
"Nina Wu" by Midi Z – Taiwan, 2019
"Graves without a name" by Rithy Panh, Cambogia – France, 2018
"Ozen" by Emir Baigazin – Kazakistan, 2018
"Ten Years Taiwan" Taiwan, 2018
"Belief as the Light in Darkness" (Short) by Francis Guillermo – Philippines, 2019(European Premiere)
"The sound of Falling" by Chien-Yu Lin, Taiwan, 2019 (Italian Premiere)
"Dog Days" by Timmy Harn – Philippines, 2018 (Italian Premiere)
"People Power Bombshell: The diary of Vietnam Rose" by John Torres, 2016
Followed by a Q&A with the director
"Shotgun Tuding" (Short) by Shireen Seno, Philippines, 2016
"We still have to close our eyes" (Short) by John Torres, 2019
Introduced by the two directors and followed by a Q&A
"Jinpa" by Pema Tseden – Tibet, 2018
"Manila in the Claws of Light" by Lino Brocka – Philippines, 1975 (Restored Edition)
"Lost & Found" Masterclass with Shireen Seno and John Torres
"The Kalampag Tracking Agency" curated by Shireen Seno & Merv Espina (Italian Premiere)
Overcoming institutional and personal lapses to give attention to little-seen works—some quite recent, some surviving loss and decomposition—this programme collects loose parts in motion, a series of bangs, or kalampag in Tagalog, assembled by individual strengths and how they might resonate off each other and a contemporary audience. Featuring some of the most striking films and videos from the Philippines and its diaspora, this is an initiative that continues to navigate the uncharted topographies of Filipino alternative and experimental moving image practice.
DROGA! By Miko Revereza
2014 | 7:21 | Super 8 transferred to HD | black and white | sound
Minsan Isang Panahon (Once Upon a Time) by Melchor Bacani III
1989 | 4:00 | 16mm transferred to 2K | color | sound
ABCD by Roxlee
1985 | 5:22 | Super 8 transferred to HD | color | sound
Bugtong: Ang Sigaw Ni Lalake (Riddle: Shout of Man) by RJ Leyran
1990 | 3:20 | 16mm transferred to 2K | color | sound
Very Specific Things at Night by John Torres
2009 | 4:29 | video | color | sound
Juan Gapang (Johnny Crawl) by Roxlee
1986 | 7:18 | Super 8 transferred to HD | color | sound
Chop-chopped First Lady + Chop-Chopped First Daughter by Yason Banal
2005 | 1:54 | video | color | sound
The Retrochronological Transfer of Information by Tad Ermitaño
1994 | 9:33 | 16mm transferred to VHS transferred to HD | color | sound
Ars Colonia by Raya Martin
2011 | 1:13 | Hi8 transferred to 35mm transferred to video | color | silent
Class Picture by Tito & Tita
2012 | 4:41 | 16mm transferred to HD | sound
Anito by Martha Atienza
2012 | 8:08 | HD | color | sound
Hindi sa atin ang buwan (the moon is not ours) by Jon Lazam
2011 | 3:31 | HD | black and white | silent
Kalawang (Rust) by Cesar Hernando, Eli Guieb III & Jimbo Albano
1989 | 6:33 | 16mm transferred to 2K | sound
More info on the Official Website