The Hong Kong International Film Festival Society will kick off its 2020 Cine Fan programme with more cinematic gems in its January/February edition, including the delicately sublime dramas of NARUSE Mikio and the magical realism-infused romance of Sergei PARAJANOV.
One of the most prolific and respected masters of Japanese cinema, NARUSE Mikio is lauded for his realistic dramas of domestic life and his sympathetic portraits of women. The Cine Fan retrospective, entitled Life is But an Illusion: The Cinema of Naruse Mikio, features 12 of his most iconic works, including some rarely seen outside of Japan. Thematically curated in three separate sections, it showcases NARUSE's uncanny ability in the portrayal of artistic reflection, marital dilemmas and social transformations.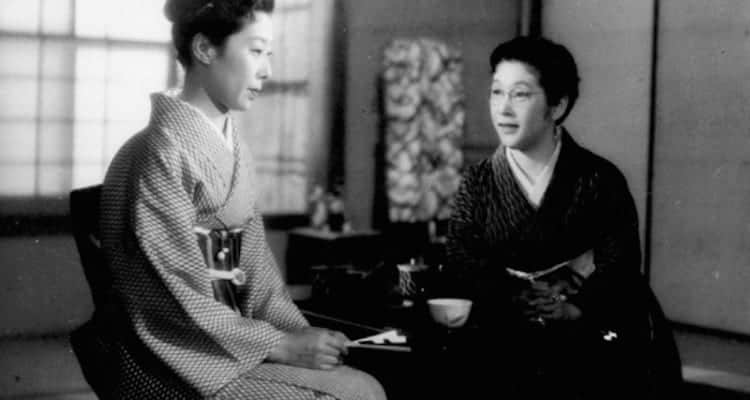 Under Love/Art, NARUSE's quietly devastating camera captured the dichotomy between artistic excellence and elusive love in his four-film collaboration with the legendary actress YAMADA Isuzu in Tsuruhachi and Tsurujiro (1938), The Song Lantern (1943), Flowing (1956), and The Flowing of Evening (1960).
Under Wife/Puzzle, four films pivoted on women lost in the illusion of family coherence – Feminine Melancholy (1937), Repast (1951), Wife (1953) and A Wife's Heart (1956) – amply demonstrates NARUSE's sensitivity and empathy towards the struggles of the ordinary people, especially discontented wives for their courageous attempt to extricate from life's hardship and oppressive relationships.
A precise reflection of the time, NARUSE's cinema represented women's transformation in the modern milieu. Time/Change, the NARUSE retrospective's third thematic section, features his acclaimed Floating Clouds (1955) and Her Lonely Lane (1962). Adapted from HAYASHI Fumiko's best-selling novels, these masterpieces were both anchored by the superb performance of TAKAMINE Hideko. Completing this section, Untamed (1957) and As a Wife, As a Woman (1961), also starring TAKAMINE, evoke powerful female mentality in a complex interplay of history, time and circumstances.
In a completely different cinematic universe from NARUSE, Armenian director Sergei PARAJANOV is renowned as a master of images, light and reality. These unique qualities are exemplified in his four features and three short films in The Dreamlike Tableau of Sergei Parajanov selection, all recently restored.
Shadows of Forgotten Ancestors (1964), PARAJANOV's first significant work after he denounced his previous social-realist style, awed the world with his poetic and gorgeously mystical touch that has become his signature motif.
PARAJANOV's groundbreaking masterpiece The Color of Pomegranates (1969) is a carefully composed tableau that drew heavily from traditional Armenian cultures and religious symbols. It was a visual feast that intoxicated even GODARD and ANTONIONI, who have called it one of the greatest films ever made. Despite being oppressed and imprisoned by the Soviet authority, the filmmaker never wavered from his unique mystical fantasy, as seen in his later films, The Legend of Suram Fortress (1985) and Ashik Kerib (1988) which, if anything, are even more playful variations of his style.
The Golden Age section of Cine Fan brings together two romance heists that showcase the extraordinary outcome when European and American creative forces collide. Trouble in Paradise (1932), German maestro Ernst LUBITSCH's Hollywood production, is a quintessential example of the Lubitsch Touch that sparkles with wit, sophistication and elegance. Romantic comedy is transformed into a different slapstick form by Hollywood director Blake EDWARDS in The Pink Panther (1963), where the inimitable Peter SELLERS and David NIVEN stole the limelight, and the pink panther will continue to charm audience in the series of films that follow.
Lost and found is the elusive thread that ties the two films in this edition's Back to the Screen. Anthony MINGHELLA's The English Patient (1996) evokes fleeting experiences and memories of lost love in times of war. While, in Sofia COPPOLA's Lost in Translation (2003), Bill MURRAY and Scarlett JOHANSSON translated their own life experiences into deeply-etched portraits of two lives stuck and lost in alienation.
The Dynamic Debuts section revisits two tragic love stories which showcase the contrasting style of two famed Korean filmmakers: Christmas in August (1998) offers a glimpse at the delicate and restraint approach of HUR Jin-ho, and An Affair (1998) sees E J-Yong's bold venture into explicit sexuality and forbidden romance.
The full programme is available at www.cinefan.com.hk/. Tickets can be purchased online and through all URBTIX outlets from 12 December 2019.