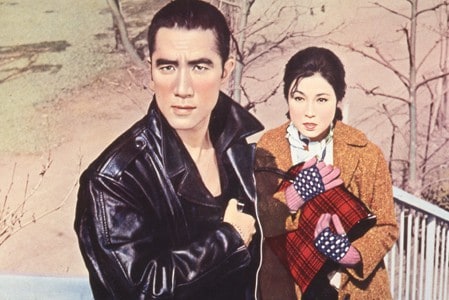 Japan Society will be celebrating the English translation of Yukio Mishima's novella "Star", based directly on his experience starring in Yasuzo Masumara's film "Afraid to Die" with a 35mm screening of the film on Friday, May 10th, 2019 at 7pm.
Clad in a black leather jacket, renowned Japanese writer Yukio Mishima struts and preens as a small-time yakuza underboss in this oddity of postwar Japanese cinema directed by Yasuzo Masumura. Fresh out of jail and hiding out above a rundown Tokyo movie theater, the unsympathetic tough is hounded by a rival gang and an asthmatic killer-for-hire as he struggles to reconcile his criminal life with a newfound love interest (Ayako Wakao). "Afraid to Die" screens in celebration of a brand new English translation of Mishima's 1961 novella Star (New Directions Publishing, 2019), a fictionalized account of his experience working on Masumura's film.
The screening will be introduced by Star translator Sam Bett and followed by a book signing. Copies of Star will be available for purchase courtesy of New Directions Publishing.

1960. 96 min. 35mm, in Japanese with English subtitles. Directed by Yasuzo Masumura. With Yukio Mishima, Ayako Wakao, Eiji Funakoshi, Takashi Shimura.
Tickets: $14 General Public; $11 Seniors & Students; $5 Japan Society members
Japan Society Film offers a diverse selection of Japanese films, from classics to contemporary independent productions. Its aim is to entertain, educate and support activities in the Society's arts and culture programs. For more, visit japansociety.org/film.
About Japan Society
Founded in 1907, Japan Society in New York City presents sophisticated, topical and accessible experiences of Japanese art and culture, and facilitates the exchange of ideas, knowledge and innovation between the U.S. and Japan. More than 200 events annually encompass world-class exhibitions, dynamic classical and cutting-edge contemporary performing arts, film premieres and retrospectives, workshops and demonstrations, tastings, family activities, language classes, and a range of high-profile talks and expert panels that present open, critical dialogue on issues of vital importance to the U.S., Japan and East Asia. Japan Society is located at 333 East 47th Street between First and Second avenues (accessible by the 4/5/6 and 7 subway at Grand Central or the E and M subway at Lexington Avenue).