Have you heard of "Kamagasaki"? Probably not. Because it is the invisible slum in the city of Osaka filled with bums and outsiders. Endangered by gentrification, the neighborhood provides a colorful habitat for Leo Sato's extraordinary 16mm debut film.
"The Kamagasaki Cauldron War" is screening at Japan Cuts 2019
"The Kamagasaki Cauldron War" offers a fresh cinematic style. Its mixed cast, consisting of amateur and professional actors, holds many funny moments for the audience. As we follow a ridiculous plot revolving around a stolen sake pot, the film takes on many stereotypes and combines humor with mystery, violence and a variety of other genres.
A 12-year-old kid, a prostitute, and a pickpocket are part of one big puzzle that "The Kamagasaki Cauldron War" steadily puts together. Director Leo Sato uses guerilla-style, on-location shooting and surprises with a diverse pick of actors, ranging from Shoji Omiya ("Control of Violence", 2015) to a little cameo from outlaw director Masao Adachi. It seems like Leo Sato is able to unite the Japanese movie scene.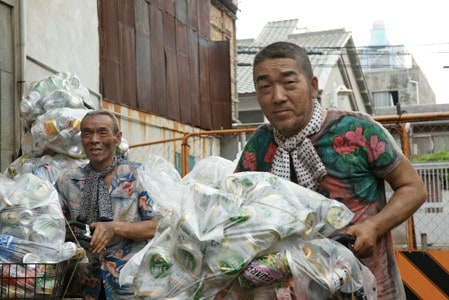 The young filmmaker learned his craft under Makoto Sato and made his first documentary, "Nagai Park Elegy" 2009 about homeless people. This interest in the poorest of society flows into his newest feature. Only financed by donations, it took five years to realise "The Kamagasaki Cauldron War".
The stolen sake cauldron, the symbol of the local yakuza gang is the driving force behind the plot. Fallen into the hands of the outsiders, not knowing how important that simple cauldron is, the script takes it time to deepen the relations between the protagonists while the finale prepares us for a final battle.
The narrative has a documentary style and is accompanied by vivid colors, throwing a vintage atmosphere on the screen. Unexpected sequences, experimental shots and an authentic setting turn "The Kamagasaki Cauldron War" into a real cinematic experience. The long shots by Mizuho Otagiri are truthfully unedited and highlighted by a chilling soundtrack.
This movie really has everything. Caught between fiction and reality, drama and comedy, we are put on a journey across an unseen sight of Japan. And most importantly, it has a noble cause. Focussing on the poor, and creating their own folklore, Leo Sato has the potential to change Japanese film.
Let's just hope he does not need another five more years to complete his next movie.