After his infamous legal dispute with production company Nikkatsu, Japanese director Seijun Suzuki would return to the world of film with his 1977 movie "A Tale of Sorrow and Sadness", ten years after "Branded to Kill" got him fired by Nikkatsu's president Kyusaku Hori. While the film's reception was rather poor upon release, its take on the world of fame and sports is perhaps one of the most bitter works of the director, combining his visual style and concept of how a popular icon is received in today's world as well as the darkness that follows immense fame.
"A Tale of Sorrow and Sadness" is screening at Japan Society
At the center of the story we find Reiko (Yoko Shiraki), a professional model, who signs a contract with the editor of a golfing fashion magazine who wants to boost his company's sales. In order to make her look and act convincing enough for the public, she is trained to become a professional golfer, has to go through a strenuous training camp and finally proves her talent when winning her first national tournament. Utilizing Reiko's new fame in the world of sports, her mentor and also occasional lover makes her sign other contracts, giving her a show on national television, which also becomes an immediate hit with audiences.
However, as Reiko's star is on the rise and first tentative negotiations are underway about her challenging the US golf champion, her personal life becomes the obsession of a violent stalker starting to blackmail and threaten her.
While the 1960s were the age of revolution and social upheaval, most of the world saw a return towards consumption and full-scale capitalism. The body politics of the past decade suddenly turned into a changed view on the physical, the gender and even life itself, not stopping with seemingly harmless, or neutral activities such as sports. With the athlete being the role model for physical perfection and the point of competition, within the context of economics and marketing, the figure of the athlete also became a powerful tool in advertising and even for the image campaigns for many companies. Considering this background, Suzuki's take on the subject matter is an unsurprisingly bitter narrative spiced with some comedic bits and psychological thriller elements, making reviewer Jasper Sharp comparing the film to Clint Eastwood's debut feature "Play Misty For Me" (1971).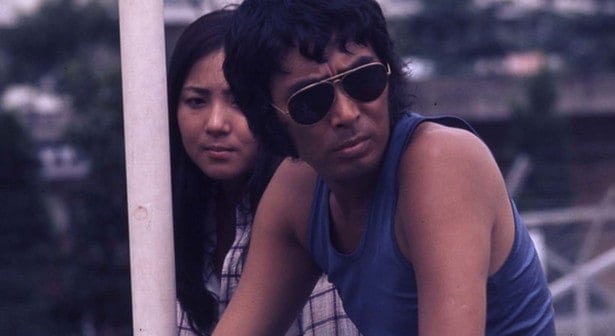 Perhaps influenced by how he was treated while still under contract with Nikkatsu, the film shows the body as a concept which, through training and guidance, becomes the ideal symbol for an image one tries to conceive. To the magazine's executives and the other high-level managers, all of which male, obviously, Reiko has ceased to be an individual and is little more than a commodity, a projection for the hopes and ideas of her many admirers, an idea which backfires quite violently, as we see when the movie enters its final act.
In the end, "A Tale of Sorrow and Sadness" is an interesting, if somewhat tiresome film by Seijun Suzuki, whose visuals and direction is at best when commenting on the pitfalls of fandom, popularity and the world of advertising.