Films about encounters often commence with the investigation and a look into the lives of all those involved as they slowly build-up to the shootout. "Batla House" too seemed to go along this path before changing direction within seconds. The film is a fictionalized recreation based on real-life events. It focuses on the life of one policeman as he deals with the aftermath of an encounter.
Watch

This

Title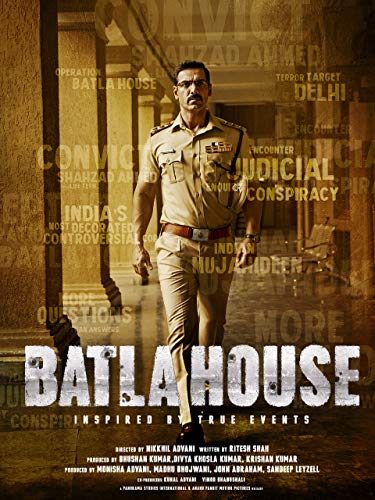 Written by Ritesh Shah, "Batla House" strives to prove that popular public opinions labeling it as a fake encounter are false. The term public opinion and people's court driving media and politicians are explored in this film. There is a scene in the court about how the chief justice says that particular comments will be struck from the record. But we begin to think. Does it matter? The comments have been heard and are out there and form part of the public opinion.
The production seems quite grounded till the mid point. Here, the honest, dutiful cop decides to do what he wants. This is where the film veers into the traditional Bollywood territory. We get to see a chase scene which only serves to make the hero look even more heroic. The policeman knows exactly which door to barge into and break it into bits and he has super strength too. We are treated to shots of his bare torso too. The film would have progressed even if this scene hadn't made it past the editing room.
John Abraham plays this policeman. In the absence of a big name amongst the supporting cast, he dominates the film. As ACP, Sanjay Kumar he is one who values duty above all else. He does not attempt to stop his wife from leaving him as she feels ignored.
The song 'O Saki Saki' is remixed in this film which brought the 2004 Hindi film 'Musafir' into my head. That's the power of a song, it will now be associated with 'Batla House' as well. This 'item number' works well in the film concerning the plan and the investigation to apprehend the accused. However, the general opinion towards the remix is negative as fans revere the original.
Batla House is fast-paced. It treads the fine line between being dragged in the middle or you may appreciate the slow parts for they do serve as a good buildup for intense bursts of action. Overall, this film showed promise and started admirably but I felt that its Bollywoodization stripped it of its promise. The Bollywoodization and the songs serve as a respite from the intense action and heavy content which are an alien concept to Indian audiences who like their fights to be over the top.
'Batla House' could have been so much better had it stuck to the tone it set in its initial scenes. It didn't and is just another Bollywood film whose immense promise fizzled out.