21. Spinning the Tales of Cruelty Towards Women (Lee Doo-yong, 1983)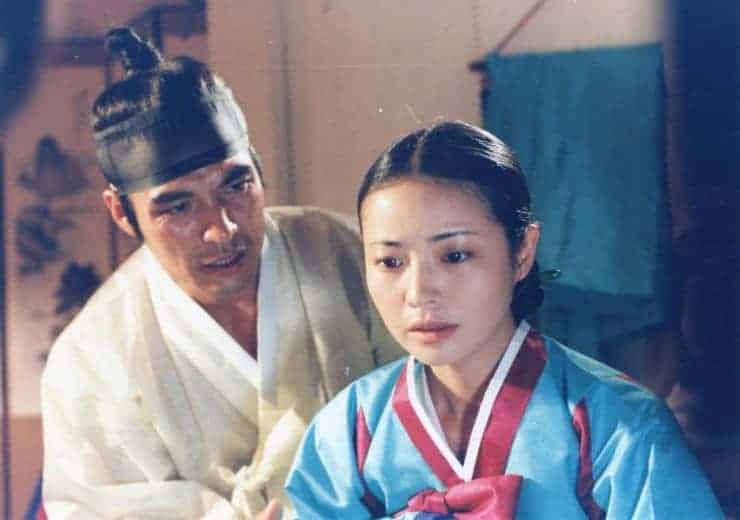 Gil-rye is a maiden from a respectable but poor family. She marries the deceased son of the powerful Official Kim's household. Gil-rye acts as young widow but she is violated by Han-saeng. When this is found out, Gil-rye is able to run away thanks to the kindness of her father-in-law. Gil-rye meets Yoon-bo, a servant in Official Chae's household, and marries him, becoming a servant herself. Afterwards, Yoon-bo hears that the honor of his household is to be restored so he takes Gil-rye to his hometown and marries her. However, when she has no children, Yoon-bo takes a mistress. Yoon-bo realizes that he is the one who is infertile. He forces Gil-rye to continue the bloodline. Gil-rye has a son. However, when her husband hands her a knife, Gil-rye understands and hangs herself.
22. Declaration of Fools (Lee Jang-ho, 1983)
Dong-cheol had been a pickpocket, beggar, pimp, etc. He is accustomed to the dark life of crime. One day, Dong-cheol meets Yook-deok while trying to kidnap the fake college student, Hye-yeong. Dong-cheol and Yook-deok find out that Hye-yeong is a prostitute. They do her errands and get fed, barely making it. Dong-cheol and Yook-deok get thrown out after fighting with a customer. Hye-yeong goes with Dong-cheol and Yook-deok and enjoy themselves at a beach resort. Dong-cheol falls in love with Hye-yeong. Afterwards, Hye-yeong gets work at a high-class restaurant in Seoul. A customer forces her to drink too much liquor and Hye-yeong ends up dead. They dress her up real nice and bury her with the notes of a sad song ringing throughout the air.
The shy Byeong-tae has a crush on Mi-ran, a college student. He fails to win her over. Disheartened, Byeong-tae runs away from home to go whale hunting. He wanders the streets when he meets and hangs out with Min-woo, a beggar. They walk around the city when they meet Choon-ja, a mute maiden, in the red district. With Min-woo's support, Byeong-tae wants to help recover Choon-ja's voice and find her hometown. They rescue Choon-ja and head for her hometown. Through the hard, painful journey, Choon-ja recovers her voice. The mother she had been missing embraces her. And Byeong-tae realized that whales are not in the far ocean but in giving love to your neighbors.
24. The Oldest Son (Lee Doo-yong, 1984)
The oldest son is a typical modernized man. When his hometown is filled with water for a new dam, his elderly parents leave and come to Seoul. However, his parents are uncomfortable with the sudden move to a tenement apartment. They move in with their youngest who has built a temporary house on a vacant lot which the oldest son has prepared in order to build his parents a house. Around this time, the oldest son goes to Jeju Island on business. He leaves the responsibility to his brother to watch over the construction of their parents' house. His elderly parents go to the construction site every day and watch with great satisfaction. Soon, a day when their new house is almost finished, the mother suddenly passes away. The oldest son belatedly hears the sad tidings. As he reaches Seoul, he stands before his mother's body and sobs sadly.
25. Gilsotteum (Im Kwon-taek, 1985)
In the summer of 1983, many were searching for family members who were separated during the Korean War. At her husband's urging, Hwa-yeong goes to a meeting place to see if she can find her son when she gets caught up in memories. With the liberation of the nation, she goes to the town of Kilsodeum and becomes an orphan. Hwa-yeong goes on to live with her father's friend, Kim Byeong-do and falls in love with his son. In Yeouido, at the meeting spot, Hwa-yeong meets Dong-jin. Though he is married to another woman, he had been waiting for her. With him is Hwa-yeong's son, Seok-cheol. Meeting Seok-cheol, Hwa-yeong feels the distance of 33 years between her and her son. However, she weeps tears as she identifies Seok-cheol as her son.
26. Ticket (Im Kwon-taek, 1986)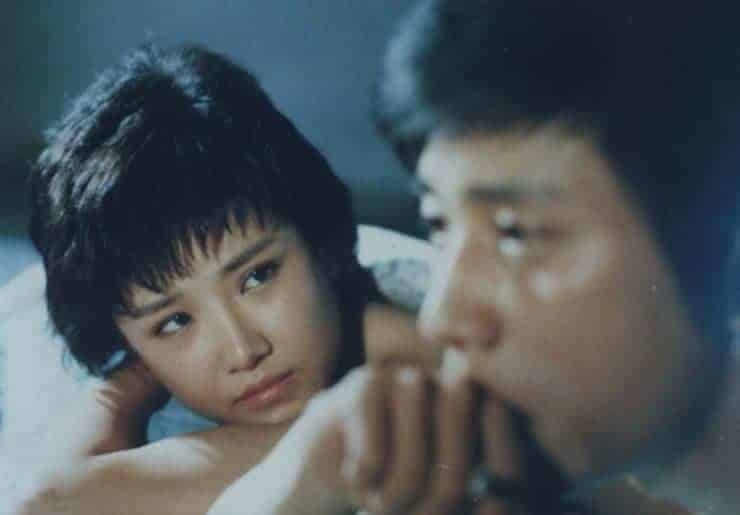 In a city in Kangwon province, Ji-sook manages a bar with Miss Yang, Miss Hong, and Se-yeong. Miss Yang and Miss Hong get used to the customers hitting on them but Se-yeong rejects all advances and works to earn money for her college boyfriend. As the days pass by, the number of customers decreases due to Se-yeong so Ji-sook scolds her. Captain Park comforts the disheartened Se-yeong but when her boyfriend Min-soo finds out about this, he breaks it off with Se-yeong. Ji-sook tries to win Min-soo over but he refuses her. Ji-sook runs into the arms of Dong-min. In between love and despair, Ji-sook pushes Min-soo into the ocean and suffers a mental breakdown. In the aftermath, each of the other women leaves to start a new life.
27. Chilsu and Mansu (Park Kwang-soo, 1988)
Born in Dongduchon, Chil-su is talented in art. While waiting for a wedding invitation from his sister in America, Chil-su quits his job painting theater signs which is his livelihood. He becomes Man-su's assistant. Man-su is in the army serving his military duty. He suffers under the dark shadow of his father. Chil-su gets dumped by Ji-na, a college student, and he loses all contacts with his sister. Understandably, Chil-su feels a little shaken. On the other hand, Man-su is unable to find stability. One night after they finished a large billboard, the two rave around the tower goofing around. However, the police are deployed when they misunderstand and think that they are trying to kill themselves. Through their misunderstanding, Man-su ultimately falls and injures himself while Chil-su is led away by the police.
After killing a bird that had a partner, Hae-jin realized for the first time the double-edged sword of life and death, the principle which rules all phenomena. She understands the basic agonies of life – death and uncertainty, obsession and anguish, sin and fear. Life and death, good and evil, happiness and sadness – they give us the experience of existing. Life is the emptiness and is not about being born nor is it about death.
29. Black Republic (Park Kwang-soo, 1990)
Gi-yeong a student activist wanted by the government for leading demonstrations hides out in a 'soon-to-be-abandoned' coal mine and works as a gofer. Sung-cheol, the coal factory owner's son, is known around town for being a tyrant in nearby coffee shops and bars. He shows uncharacteristic interest in Gi-yeong. Yeong-sook, who sells more than coffee at the coffe house, is fascinated by Gi-yeong's qualities. She decides to pursue love by giving up prostitution. Their love remains even after the threat of a worker strike. When Sung-cheol hears about his mother's death, he becomes violent towards Yeong-sook.. Gi-yeong tries to stop the fight but is pulled into it and mistaken by the police as a perpetrator. After the torture he endured, the police let him go. Gi-yeong has no choice but to leave town because his identity has been exposed. Yeong-sook sets off with him to leave the coal mine village but on her last coffee run, she runs into Seong-cheol. She kills him when he tries to stop her from leaving and is dragged off by the police as Gi-yeong watches on.
30. White Badge (Chung Ji-young, 1992)
Han Gi-joo, a journalist, must face his memories of Vietnam as he writes a series of articles on the subject for his local newspaper. The articles attract a fellow veteran, Byeon Jin-soo, who begins randomly appearing in Han's life. The film, through a series of flashbacks, depicts both the events in Vietnam and their aftermath in the lives of these two soldiers.
31. Seopyeonje (Im Kwon-taek, 1993)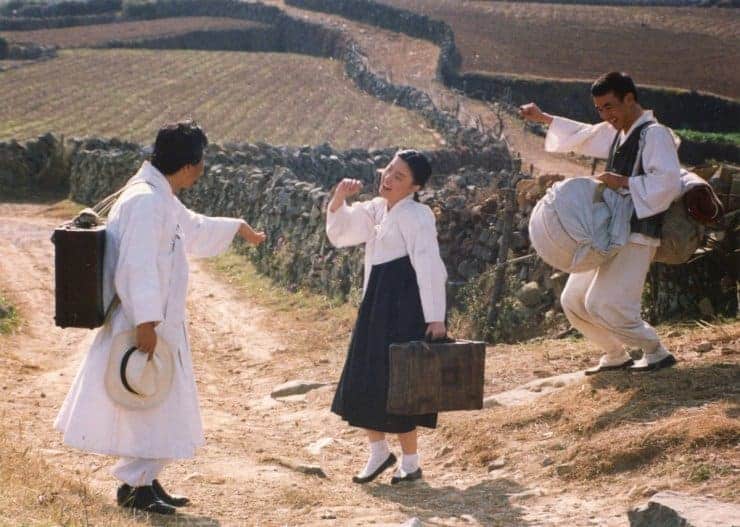 After a long search asking about his half-sister's whereabouts, Dongho finally encounters Songhwa, now a wandering and blind songstress. Pansori's wonderful emotional influence, Korean people's uprooted lives, and an artist's madness merged in the beautiful sceneries makes this film sad and cruel.
32. A Single Spark (Park Kwang-soo, 1995)
A biographical film about Jeon Tae-il, a worker who protested labor conditions through self-immolation.
33. A Petal (Jang Sun-woo, 1996)
May, 1980 during the Gwangju uprising. A 15-year-old girl deserts her dying mother and runs away amid gunfire. Years late, the girl calls a construction site worker Jang and follows him everywhere. Jang knows that the girl has experienced something unimaginable. The girl never talks and always has a far-off gaze. Her mind seems to be torn into pieces which frustrates Jang. He becomes absorbed into the pain and sadness of the girl, and finds her one day in front of her mother's grave. There, she tells how she had to abandon her mother in order for her to live.
34. Green Fish (Lee Chang-dong, 1997)
This is a melodrama depicting death, love, pain, and the hardships that an innocent young man experiences in a violent society, where the meaning of family vanishes because of industrialization. Mak-Dong finishes his military service and is on the way home, when he helps Mi-Ae, who is being harassed by gangsters. As a result, he misses his train. Mak-Dong arrives home with her rosy scarf in his hand. Nobody welcomes Mak-Dong except his big brother with polio. Mak-Dong except his big brother with polio. Mak-Dong wishes he managed a good restaurant so that all the family members could live together. So he goes to Seoul searching for work and goes to the night club where Mi-Ae sings, to return her scarf. Mi-Ae is the mistress of the gangster Bae Tae-Gon. She finds a job for Mak-Dong through Tae-Gon. Mak-Dong begins to work in the parking lot and falls into the Family of violence…
35. Shiri (Kang Je-gyu, 1999)
The film credited as having started the Korean New Wave, "Shiri" tells the story of South Korean agents Ryu and Lee as they track a female assassin from North Korea who has mysteriously disappeared. With new killings and the theft of a deadly bomb, time is running out to catch her.
36. Nowhere to Hide (Lee Myung-se, 1999)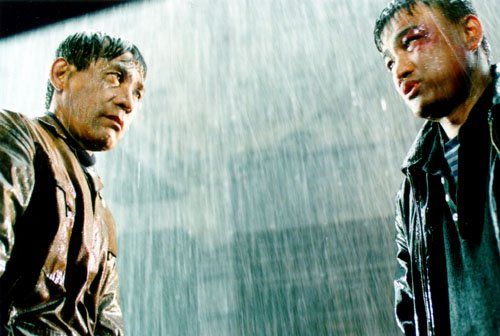 As passersby run for cover in the torrential rain, a mysterious man walks up the Forty Steps and Slashes another man to death. The killer disappears with a briefcase full of cash while his accomplices finish off the dead man's subordinate. The initial police investigation reveals an underground drug world at war. Veteran police detective Woo is assigned to this case. A workaholic with no personal life, Woo works by instinct and frequently defies police regulations. Unlike Woo, his partner Kim is a rational and sensitive family man. The two join forces with four other detectives to pursue the mysterious assassin, Jang Seong-min. However the group barely manages to have several close encounters with Seong-min. Woo and his team devises an air-tight plan to arrest him by disguising themselves as employees on a train that Seong-min is scheduled to be on for a drug deal. As all hell breaks lose between Woo's men and Seong-min's, Seong-min once agin escapes the scene, but not before stabbing Kim. A furious Woo charges towards Sun-min's hometown, expecting to have another chance at catching him. At last, the two men face off for their final showdown.
Yong-ho is a crazy forty year-old man who shows up unexpectedly at the twentieth reunion of former factory workers. The film goes on a time travel as seven past episodes of Young-ho's personal life reveal a link to twenty years of social and economic changes in Korea.
38. The Isle (Kim Ki-duk, 1999)
The Isle is a remote fishing ground where people go to forget their deepest problems. Hee-jin, the groundkeeper, lives there alone selling supplies, food and drinks, and sometimes her own body, to the fishermen. One day, Hyeon-sik, an ex-cop who killed his lover after discovering her affair, arrives there looking for a place to hide. He tries to commit suicide with his pistol, but Hee-jin stops him. The incident brings them together, and a strange relationship begins to form between the two. The police eventually come looking for Hyeon-sik, and this time he tries to kill himself by swallowing fish-hooks. And once again, Hee-jin saves him from the fishhooks and the police, and they begin to share an intimate relationship. The sex is like narcotics to him, who is suffering from extreme pain, both physical and mental. However, when he cannot stand the isolation any longer, he decides to leave only to realize that he is bound by her and her fishing ground. They are like two fish baited by and hooked to each other.
Four friends — a rebellious athlete, an amateur rock musician, an aimless painter and a grim-faced fool — decide to rob a gas station just for fun. Once there, they find a tightward owner and three parttime workers: a slimy ass-kisser, a brainy nerd, and a sexy girl the other two are interested in. The three come to learn an entirely new mode of existence through the young crooks, who lead them through a series of dumbfounding events. Without knowing how to operate the gas pumps, the robbers can only fill up the customers' tanks, regardless of how much they may actually want. When faced with the customers' complaints, they simply take them hostage. When a crowd of teenage hoodlums come looking for money, they take them hostage, too. They beat up a Chinese food delivery boy who asks for extra change, prompting a gang of delivery boys to attack the station. In the meantime, a gang of local thugs come to rescue their captive friends, leading up to a chaotic final confrontation which threatens to end them all.
40. Il Mare (Lee Hyun-seung, 2000)
A woman moving out of her beautiful seaside home named Il Mare. She leaves a letter in the mailbox, but somehow it is delivered back in time to Sang-hyun, the previous owner of the house. Upon receiving the letter, Sang-hyun, a gifted young architect, refuses to believe that the writer lives two years in the future. Nonetheless the two take up a written correspondence. The woman asks Sang-hyun to recover a tape recorder which she lost in the subway station two years hence. As he arrives at the station, he sees a beautiful woman boarding the train, accidentally leaving her tape recorder behind…